Laud Herb in English
English-speaking LH analyst
Команда форума
Сообщения

11.375
Реакции

5
...Soothe Damaged Skin. Aloe, Borage, Olive, Marshmallow. All Vegan Ingredients Cruelty Free...
​
Full product title:
Abra Therapeutics, Skin Nutrition Therapeutic Lotion, Calendula & Vitamin E, 16 Fl Oz (475 Ml)
Brand:
Abra Therapeutics
iHerb product id:
8393
Laud Herb Tag:
8393



Price:
$11.52
Extra Discount:
Yes
Free shipping:
Yes, to 150 countries
(for orders over $40)
iHerb customers rating:
4.29
iHerb customer reviews:
21
Best choice?
May be...
(see
reviews
)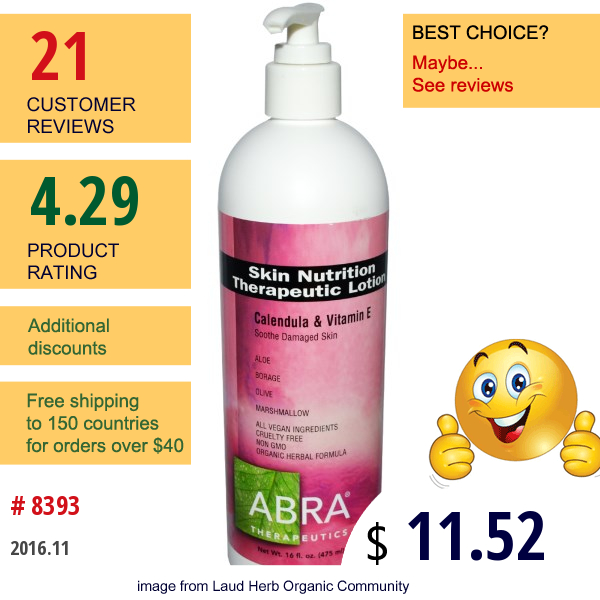 Description:
Soothe Damaged Skin.
Aloe, Borage, Olive, Marshmallow.
All Vegan Ingredients.
Cruelty Free.
Non GMO.
Organic Herbal Formula.
Organic for Over 30 Years.
Skin Nutrition Lotion.
12-Herb Formula.
Use:
Herbal lore has been passed down from mother to daughter and father to son for eons of time. This knowledge is our healing plant legacy and has been saved in many books that have survived from the old days. This 12-herb formula represents herbs that have been recommended over the ages for difficult skin conditions. Notice that many of the Latin names are called official due to their high status in the pharmacopoeias of the 18th and 19th centuries. Listen to the knowledge...
read more
.
Categories:
Skin Health
,
Body Lotion
,
肌の健康
,
ハンド&ボディーローション
,
Здоровье Кожи
,
Лосьон Для Тела
,
피부 건강
,
핸드 & 바디 로션
Последнее редактирование модератором: