Laud Herb in English
English-speaking LH analyst
Команда форума
Сообщения

11.375
Реакции

5
...Foundation for Longer Life. Superior Calcium Formula. Dietary Supplement. Bone Restore...
​
Full product title:
Life Extension, Bone Restore, 120 Capsules
Brand:
Life Extension
iHerb product id:
48814
Laud Herb Tag:
48814



Price:
$16.88
Extra Discount:
Yes
Free shipping:
Yes, to 150 countries
(for orders over $40)
iHerb customers rating:
4.67
iHerb customer reviews:
3
Best choice?
May be...
(see
reviews
)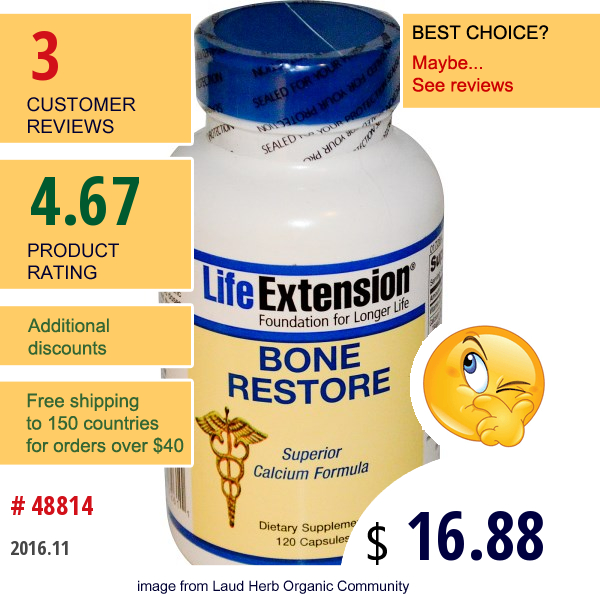 Description:
Foundation for Longer Life.
Superior Calcium Formula.
Dietary Supplement.
Bone Restore.
Throughout life, cells known as osteoblasts construct bone matrix and fill it with calcium. At the same time, osteoclasts work just as busily to tear down and resorb bone. This fine balance is regulated by many factors, including systemic hormones and cytokines. Bone mass reaches its peak by the middle of the third decade of life and plateaus for about ten years, during which time bone turnover is constant, with bone formation approximately equaling bone resorption.
As our bodies age, this fine balance is lost. As the relative hormone levels shift in midlife — more drastically in women than in men — the osteoclasts gain the upper hand...
read more
.
Categories:
Life Extension
,
Minerals
,
Calcium
,
Calcium Formulas
Последнее редактирование модератором: