Laud Herb in English
English-speaking LH analyst
Команда форума
Сообщения

11.375
Реакции

5
...Less Than 0.3 g Fat Per Serving. Nut Free. Soy Free. Kosher Parve. Vegetarian....
​
Full product title:
Orgran, Toasted Buckwheat Crispibread, Gluten Free, 4.4 Oz (125 G)
Brand:
Orgran
iHerb product id:
35763
Laud Herb Tag:
35763



Price:
$2.96
Extra Discount:
Yes
Free shipping:
Yes, to 150 countries
(for orders over $40)
iHerb customers rating:
4.2
iHerb customer reviews:
44
Best choice?
May be...
(see
reviews
)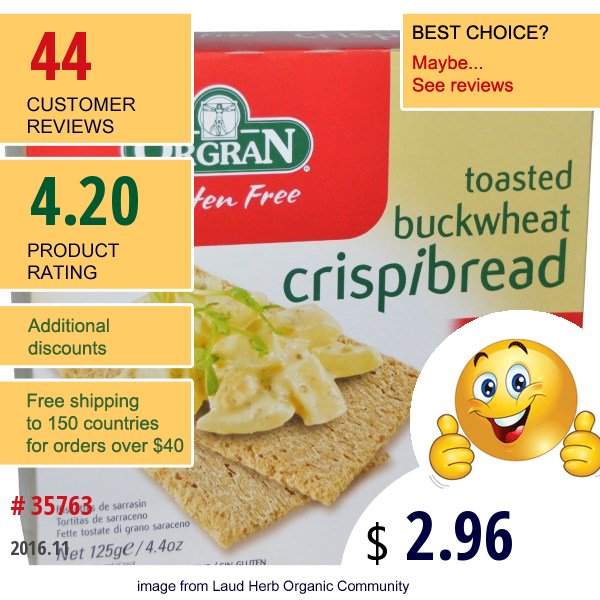 Description:
Less Than 0.3 g Fat Per Serving.
Nut Free.
Soy Free.
Kosher Parve.
Vegetarian.
GFCF Approved.
All Orgran Products are:
Gluten free.
Wheat free.
Dairy free.
Egg free.
Yeast free.
Vegan.
The Trusted Name in More Than 50 Countries.
The Trusted Name Since 1953.
Orgran Buckwheat Crispibread is a quality product produced from nutrient rich buckwheat that is specially milled to retain purity, freshness and its unique toasted nutty flavor.
Buckwheat is not related to wheat in any way and actually belongs to the rhubarb family of plants and is highly valued for its nutrient composition and nutritional benefits.
Orgran Buckwheat...
read more
.
Categories:
Orgran
,
Crackers & Breadsticks
Последнее редактирование модератором: