Laud Herb in English
English-speaking LH analyst
Команда форума
Сообщения

11.375
Реакции

5
...The Energy Supplements. Chewable. Dietary Supplement. Gluten Free. Quality Natural Supplements...
​
Full product title:
Natures Plus, Milk Free W/vitamin D, Natural Spearmint Flavor, 180 Tablets
Brand:
Natures Plus
iHerb product id:
22285
Laud Herb Tag:
22285



Price:
$14.20
Extra Discount:
Yes
Free shipping:
Yes, to 150 countries
(for orders over $40)
iHerb customers rating:
4.33
iHerb customer reviews:
3
Best choice?
May be...
(see
reviews
)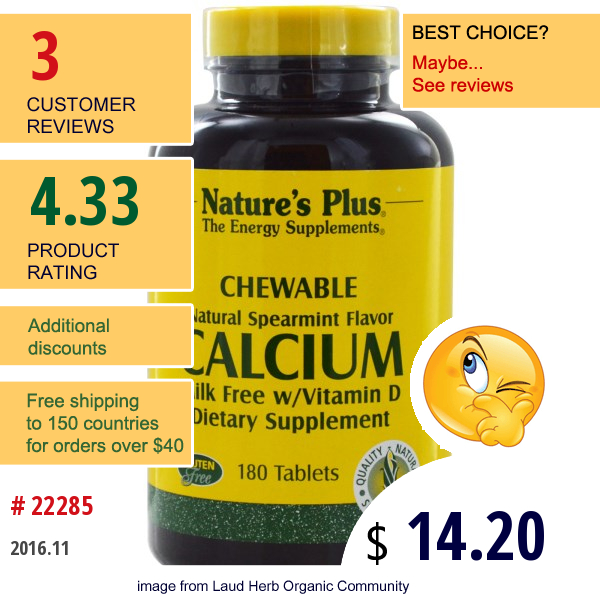 Description:
The Energy Supplements.
Chewable.
Dietary Supplement.
Gluten Free.
Quality Natural Supplements.
Vegetarian.
Hypo-Allergenic.
Nutritional Support for Healthy Bones, Natural Energy Production and Overall Well-Being.
This milk-free, vegetarian, chewable Calcium formula from Nature's Plus is perfect for anyone with milk intolerance. Delicious natural spearmint flavor, plus 200 IU of Vitamin D for efficient Calcium absorption. The average adult has roughly 2.5 lbs. of calcium, 99% of which is in the bones....
read more
.
Categories:
Minerals
,
Calcium
,
Calcium & Magnesium
,
Chewable Calcium
,
ミネラル
,
カルシウム
,
カルシウム&マグネシウム
,
チュアブル カルシウム
,
Минералы
,
Кальций
,
Кальций И Магний
,
Жевательный Кальций
,
미네랄
,
칼슘
,
칼슘 & 마그네슘
,
씹어먹는 칼슘
Последнее редактирование модератором: