Laud Herb in English
English-speaking LH analyst
Команда форума
Сообщения

11.375
Реакции

5
...Vegan. Kosher. USDA Organic Halal. Gluten Free. Lactose Free. High In: Fiber, Iron, Calcium, Protein...
​
Full product title:
Oskri, Sesame Bars, Molasses And Fennel, 18 Bars, 1.86 Oz (53 G) Each
Brand:
Oskri
iHerb product id:
35523
Laud Herb Tag:
35523



Price:
$15.84
Extra Discount:
Yes
Free shipping:
Yes, to 150 countries
(for orders over $40)
iHerb customers rating:
3.00
iHerb customer reviews:
1
Best choice?
May be...
(see
reviews
)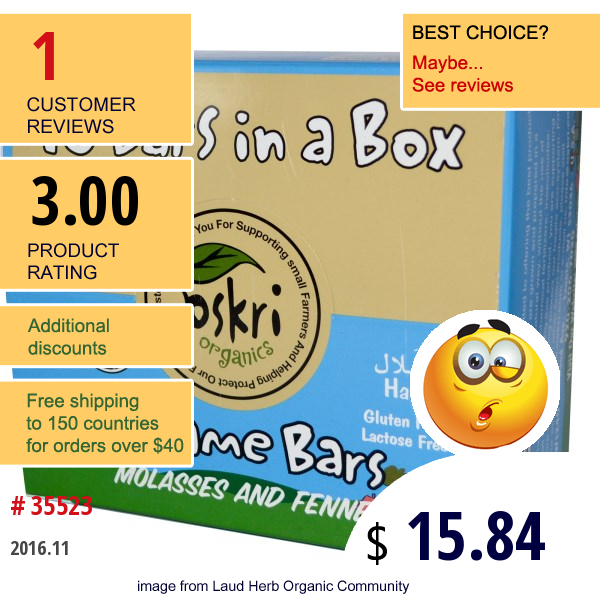 Description:
Vegan.
Kosher.
USDA Organic.
Halal.
Gluten Free.
Lactose Free.
High In: Fiber, Iron, Calcium, Protein.
Certified Organic by MOSA.
Thank you for helping protect our fragile eco-system.
Oskri Organics is committed to offering the best products that are grown and prepared in a natural way, without the use of chemical fertilizers, insecticides, and herbicides. By buying this product,...
read more
.
Последнее редактирование модератором: