Laud Herb in English
English-speaking LH analyst
Команда форума
Сообщения

11.375
Реакции

5
...Since 1947. True Potency. Probiotic Support. Clinically Supported Results. Survives Stomach Acid...
​
Full product title:
Solgar, Probi 20 Billion, 30 Veggie Caps
Brand:
Solgar
iHerb product id:
57806
Laud Herb Tag:
57806



Price:
$23.98
Extra Discount:
Yes
Free shipping:
Yes, to 150 countries
(for orders over $40)
iHerb customers rating:
4.83
iHerb customer reviews:
6
Best choice?
May be...
(see
reviews
)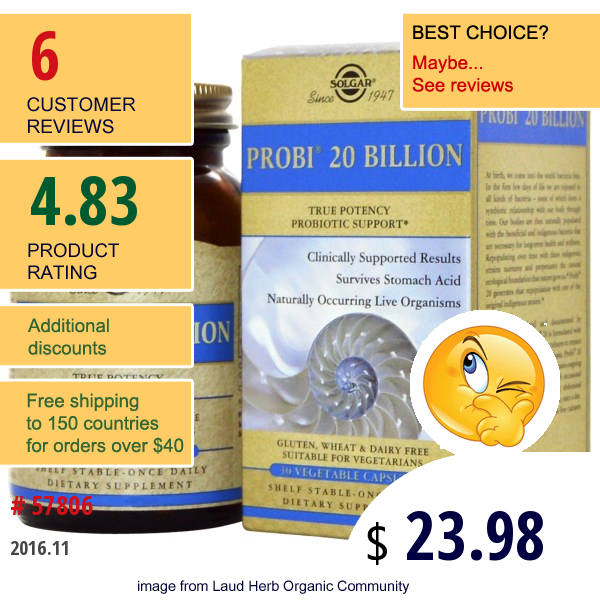 Description:
Since 1947.
True Potency.
Probiotic Support.
Clinically Supported Results.
Survives Stomach Acid.
Naturally Occurring Live Organisms.
Gluten, Wheat & Dairy Free.
Suitable for Vegetarians.
Shelf Stable - Once Daily.
Dietary Supplement.
At birth, we come into the world bacteria free. In the first few days of life we are exposed to all kinds of bacteria - some of which form a symbiotic relationship with our body through time. Our bodies are then naturally populated with the beneficial and indigenous bacteria that are necessary for long-term health and wellness. Repopulating over time with these indigenous strains nurtures and perpetuates the natural ecological foundation that nature gave us. Probi...
read more
.
Categories:
Solgar
,
Stabilized Probiotics
Последнее редактирование модератором: