Laud Herb in English
English-speaking LH analyst
Команда форума
Сообщения

11.375
Реакции

5
...Freeze Dried Light & Crispy. 100% Real Fruit Resealable Package! Real Sliced...
​
Full product title:
Brothers-All-Natural, Fruit Crisps, Strawberry, 1 Oz (28.35 G)
Brand:
Brothers-All-Natural
iHerb product id:
59756
Laud Herb Tag:
59756



Price:
$3.52
Extra Discount:
Yes
Free shipping:
Yes, to 150 countries
(for orders over $40)
iHerb customers rating:
4.00
iHerb customer reviews:
12
Best choice?
May be...
(see
reviews
)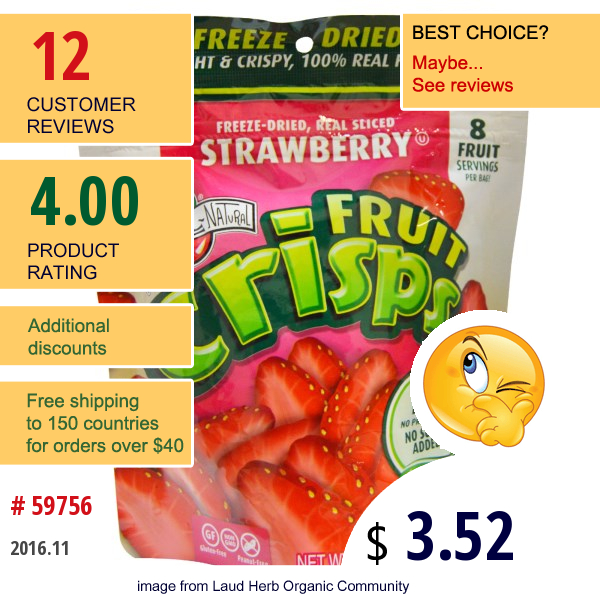 Description:
Freeze Dried.
Light & Crispy.
100% Real Fruit.
Resealable Package!
Real Sliced.
No Preservatives.
No Sugar Added!
Gluten Free.
Non GMO.
Peanut Free.
The healthy snack- the one Mother Nature would eat!
Eat more fruit!
Our fruit crisps are an easy, convenient and fun way to eat your fruit. Only fruit-absolutely nothing added.
We start with luscious FRESH fruit, straight from the best growing regions in the world. We then send it directly through our state-of-art FREEZE-DRIED process that gently removes the water from the fresh fruit, and transforms it into a delicious, delightfully light, and flavorful CRISP. As always, we simply use fruit, nothing, artificial,...
read more
.
Categories:
Dried Fruit
Последнее редактирование модератором: