Laud Herb in English
English-speaking LH analyst
Команда форума
Сообщения

11.375
Реакции

5
...Fair Trade Certified. USDA Organic. Kosher. Non-Irradiated. Certified Organic by QAI...
​
Full product title:
Frontier Natural Products, Organic English Breakfast Tea, 16 Oz (453 G)
Brand:
Frontier Natural Products
iHerb product id:
31196
Laud Herb Tag:
31196



Price:
$18.90
Extra Discount:
Yes
Free shipping:
Yes, to 150 countries
(for orders over $40)
iHerb customers rating:
4.46
iHerb customer reviews:
28
Best choice?
May be...
(see
reviews
)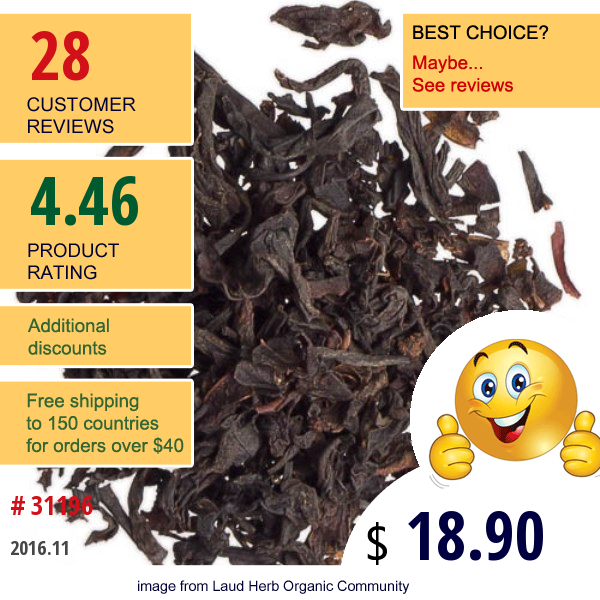 Description:
Fair Trade Certified.
USDA Organic.
Kosher.
Non-Irradiated.
Certified Organic by QAI.
This popular blend of black teas has a full, robust, malty (and slight citrus) flavor. It's a good choice for those who prefer a bit of milk or sweetener in their tea.
Botanical name: Camellia sinensis L.
English Breakfast is a tea hearty enough to pair with a full breakfast or a tea-time repast of freshly baked scones. This traditional tea is often accentuated with sugar or honey and milk.
We're proud to offer a wide array of familiar and exotic loose leaf teas from the finest tea estates for optimum sipping. We've got a wide selection of organic and Fair Trade Certified™ teas, along with premium black teas,...
read more
.
Categories:
Frontier Natural Products
,
English Breakfast
Последнее редактирование модератором: