Laud Herb in English
English-speaking LH analyst
Команда форума
Сообщения

11.375
Реакции

5
...To Your Good Health...Bob Moore. Friend of the Heart. Hearty and Delicious. Kosher...
​
Full product title:
Bobs Red Mill, Bountiful, Black Bean, Soup Mix, 26 Oz (737 G)
Brand:
Bobs Red Mill
iHerb product id:
29623
Laud Herb Tag:
29623



Price:
$5.37
Extra Discount:
Yes
Free shipping:
Yes, to 150 countries
(for orders over $40)
iHerb customers rating:
4.75
iHerb customer reviews:
4
Best choice?
May be...
(see
reviews
)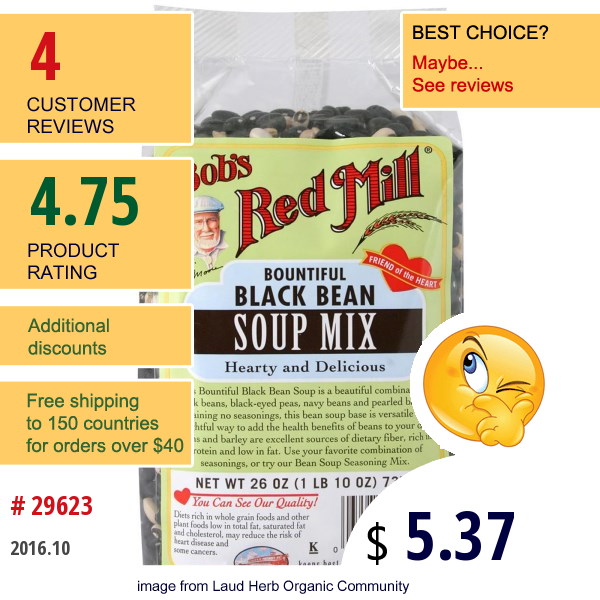 Description:
To Your Good Health.Bob Moore.
Friend of the Heart.
Hearty and Delicious.
Kosher.
Bob's Bountiful Black Bean Soup is a beautiful combination of black beans, black-eyed peas, navy beans and pearled barley. Containing no seasonings, this bean soup base is versatile and a delightful way to add the health benefits of beans to your diet. Beans and barley are excellent sources of dietary fiber, rich in protein and low in fat. Use your favorite combination of seasonings, or try our Bean Soup Seasoning Mix. .
You Can See Our Quality!
Diets rich in whole grain foods and other plant foods low in total fat, saturated fat and cholesterol, may reduce the risk of heart disease and some cancers.
Beans, peas, and...
read more
.
Categories:
Pasta & Soup
,
Beans
,
食品
,
米、パスタ、スープ & 穀類
,
パスタ&スープ
,
豆
,
Продукты Питания
,
Паста И Суп
,
Фасоль
,
파스타&스프
,
콩
Последнее редактирование модератором: