Laud Herb in English
English-speaking LH analyst
Команда форума
Сообщения

11.375
Реакции

5
...Certified Organic. Expeller Pressed. 100% Pure. USDA Organic. Non GMO Project Verified...
​
Full product title:
Now Foods, Healthy Foods, Organic, Macadamia Nut Oil, 16 Fl Oz (473 Ml)
Brand:
Now Foods
iHerb product id:
2479
Laud Herb Tag:
2479



Price:
$13.73
Extra Discount:
Yes
Free shipping:
Yes, to 150 countries
(for orders over $40)
iHerb customers rating:
4.68
iHerb customer reviews:
264
Best choice?
Absolutely!!!
(see
reviews
)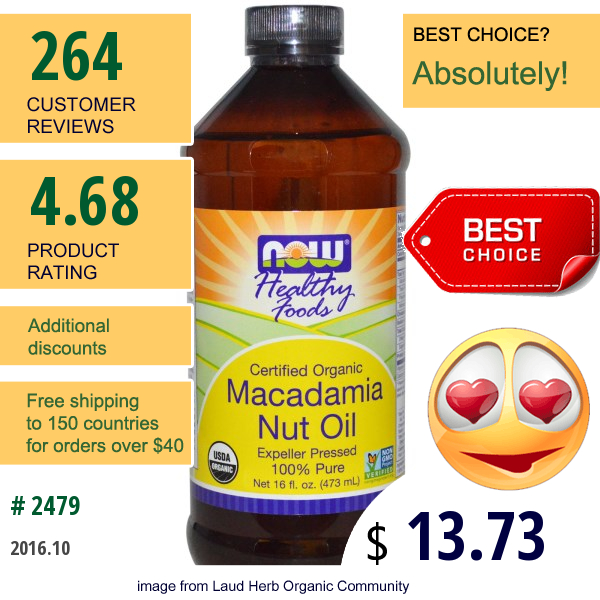 Description:
Certified Organic.
Expeller Pressed.
100% Pure.
USDA Organic.
Non GMO Project Verified.
Certified Organic by QAI.
You can travel the world over, and not find a more perfect cooking oil than Macadamia Nut Oil. Its naturally high smoke point (400-450ºF) allows for excellent cooking versatility, and even helps reduce the production of trans fatty acids.
To ensure quality and purity, NOW Macadamia Nut Oil uses only unrefined, unhybridized macadamias. These organically grown nuts are superior in quality, and account for its unique nutritional profile. At 79% monounsaturated fat, 4% polyunsaturated fat, and just 2.5 grams of saturated fat, NOW Macadamia Nut Oil has one of the healthiest unsaturated to saturated fat ratios, even...
read more
.
Последнее редактирование модератором: