Laud Herb in English
English-speaking LH analyst
Команда форума
Сообщения

11.375
Реакции

5
...Infused with FlowerColor Waxes. Gluten-Free. Talc-Free. Cruelty-Free. Vegan....
​
Full product title:
Ecco Bella, Flowercolor Blush, Coral Rose (Neutral), .12 Oz (3.5 G)
Brand:
Ecco Bella
iHerb product id:
20508
Laud Herb Tag:
20508



Price:
$14.36
Extra Discount:
Yes
Free shipping:
Yes, to 150 countries
(for orders over $40)
iHerb customers rating:
4.2
iHerb customer reviews:
10
Best choice?
May be...
(see
reviews
)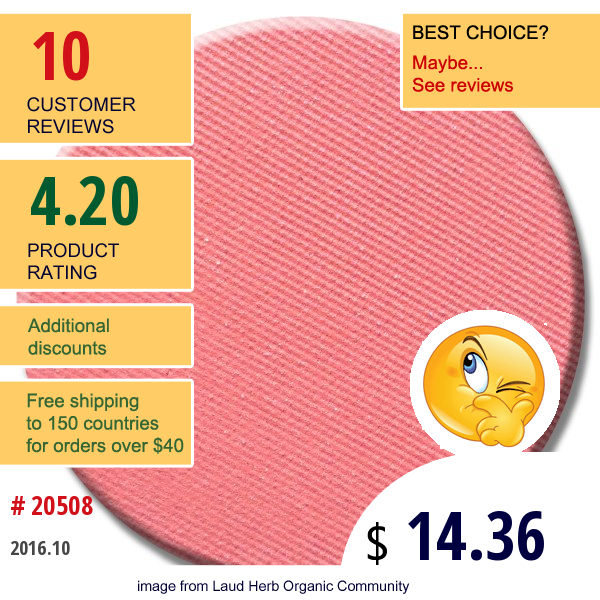 Description:
Infused with FlowerColor Waxes.
Gluten-Free.
Talc-Free.
Cruelty-Free.
Vegan.
Naturally Preserved.
Perfect sheer peach-pink blush, looks good on everyone.
Other Ingredients.
Mica, kaolin, cornstarch/zea mays*, zinc oxide, sweet almond oil/prunus dulcis*, green tea extract/camellia sinensis*, aloe barbadensis extract*, flower wax,...
read more
.
Categories:
Ecco Bella
,
Bath & Beauty
,
Makeup
,
Blush
,
バス&ビューティー
,
コスメ、メイク
,
チーク
,
Для Душа И Красоты
,
Макияж
,
Румяна
,
목욕 및 미용
,
블러셔 화장
Последнее редактирование модератором: