Laud Herb in English
English-speaking LH analyst
Команда форума
Сообщения

11.375
Реакции

5
...Maximum Strength. Pharmaceutical Grade. Vegan. Gluten Free. Non GMO. Promotes Healthy Hair...
​
Full product title:
Olympian Labs Inc., Biotin, 10,000 Mcg, 60 Tablets
Brand:
Olympian Labs Inc.
iHerb product id:
65095
Laud Herb Tag:
65095



Price:
$8.29
Extra Discount:
Yes
Free shipping:
Yes, to 150 countries
(for orders over $40)
iHerb customers rating:
0
Best choice?
May be...
(see
reviews
)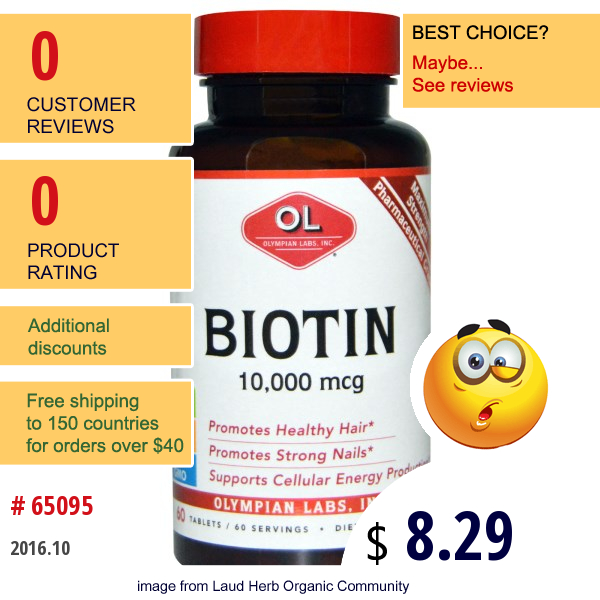 Description:
Maximum Strength.
Pharmaceutical Grade.
Vegan.
Gluten Free.
Non GMO.
Promotes Healthy Hair.
Promotes Strong Nails.
Supports Cellular Energy Production.
60 Servings.
Dietary Supplement.
Allergen Free.
HB - Health & Beauty.
BJH- Bone & Joint Health.
Looking to strengthen your nails and restore that healthy shine to your hair? If you are experiencing hair loss, brittle nails and unhealthy skin you may be deficient in biotin according to clinical studies. Olympian Labs Biotin is an important nutrient for the growth and maintenance of your hair, nails, and skin.
Biotin is a B vitamin, also referred to as vitamin H or vitamin B9. While it is most commonly taken to support...
read more
.
Categories:
Vitamins
,
Vitamin B
,
Biotin
,
ビタミン
,
ビタミンB
,
ビオチン
,
Витамины
,
Витамин B
,
Биотин
,
비타민
,
비타민 B
,
비오틴
Последнее редактирование модератором: