Laud Herb in English
English-speaking LH analyst
Команда форума
Сообщения

11.375
Реакции

5
...New! Look Improved Formula‡. Since 1977. #1 Sports Pack. Non-GMO Optimal Plus Body Nutrition...
​
Full product title:
Super Nutrition, Opti-Energy Pack, Multivitamin/mineral Supplement, 30 Packets, (6 Tabs) Each
Brand:
Super Nutrition
iHerb product id:
3234
Laud Herb Tag:
3234



Price:
$42.83
Extra Discount:
Yes
Free shipping:
Yes, to 150 countries
(for orders over $40)
iHerb customers rating:
4.71
iHerb customer reviews:
7
Best choice?
May be...
(see
reviews
)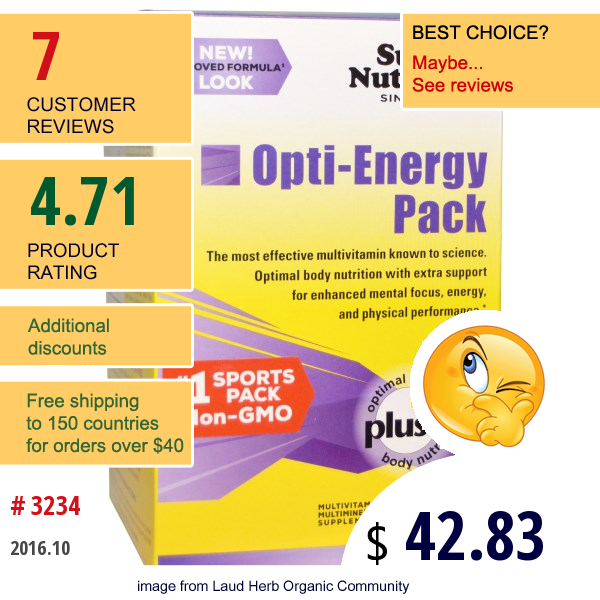 Description:
New! Look.
Improved Formula‡.
Since 1977.
#1 Sports Pack.
Non-GMO.
Optimal Plus Body Nutrition.
Multivitamin Multimineral Supplement.
For: Men, Women & Teens.
Now with Vitamin K2 (MK7) and 3,000 IU of Vitamin D.
Vegetarian | Hypoallergenic | Gluten Free.
The most effective multivitamin known to science. Optimal body nutrition with extra support for enhanced mental focus, energy, and physical performance.
Vitamins are essential for life.
It takes only a small amount of vitamins to survive. It takes lots more to thrive.
There are over 25,000 studies in the National Library of Medicine on vitamin potencies. Together they show that...
read more
.
Categories:
Super Nutrition
Последнее редактирование модератором: