Laud Herb in English
English-speaking LH analyst
Команда форума
Сообщения

11.375
Реакции

5
...The Original Fruit & Nut Food Bar. No Added Sugar. Unprocessed. Raw. Non-GMO....
​
Full product title:
Larabar, Key Lime Pie, 16 Bars, 28.8 Oz (816 G)
Brand:
Larabar
iHerb product id:
9195
Laud Herb Tag:
9195



Price:
$18.93
Extra Discount:
Yes
Free shipping:
Yes, to 150 countries
(for orders over $40)
iHerb customers rating:
4.79
iHerb customer reviews:
14
Best choice?
May be...
(see
reviews
)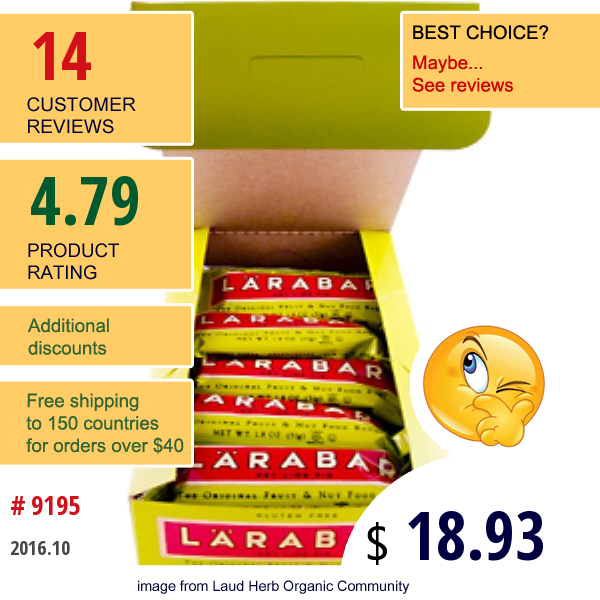 Description:
The Original Fruit & Nut Food Bar.
No Added Sugar.
Unprocessed.
Raw.
Non-GMO.
1 Serving of Fruit.
Gluten, Dairy & Soy Free.
Vegan.
Kosher.
Humm Food: Real food that creates an unmistakable feeling of health and well-being. Often accompanied by an inexplicable and irresistible urge to, well, hum.
I created LARABAR because a healthy body, mind and spirit are derived from what you eat. I believe that food is healthiest and most satisfying in its simplest, most natural state. Made from 100% real food. LARABAR is energy in its purest form. A magical harmony of fruits, nuts and spices, LARABAR harvests the best natural ingredients to lift...
read more
.
Последнее редактирование модератором: