Laud Herb in English
English-speaking LH analyst
Команда форума
Сообщения

11.375
Реакции

5
...Peace, Love & Crunch. New Look!. Organic. Gluten Free. Non-GMO. Whole Grain...
​
Full product title:
Marys Gone Crackers, Organic, Hot n Spicy Jalapeno Crackers, 5.5 Oz (156 G)
Brand:
Marys Gone Crackers
iHerb product id:
59787
Laud Herb Tag:
59787



Price:
$5.31
Extra Discount:
Yes
Free shipping:
Yes, to 150 countries
(for orders over $40)
iHerb customers rating:
3.63
iHerb customer reviews:
19
Best choice?
May be...
(see
reviews
)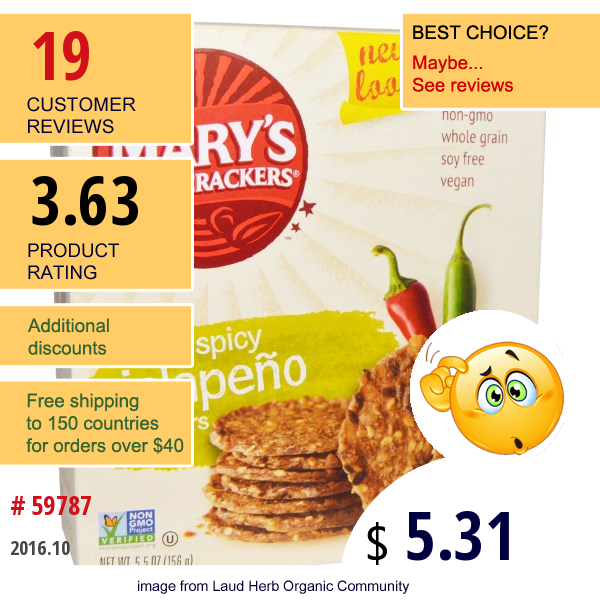 Description:
Peace, Love & Crunch.
New Look!
Organic.
Gluten Free.
Non-GMO.
Whole Grain.
Soy Free.
Vegan.
Non GMO Project Verified.
USDA Organic.
Certified AOrganic by International Certification Services Inc.
Wheat Free.
Dairy Free.
Kosher.
Peanut/Nut Free (Except Coconuts).
450mg Omega-3 Fatty Acids Per Serving.
0 g Trans Fats.
Made with Love.
Conscious Eating.
100% Whole Grain 18g or More Per Serving.
Certified Vegan.
Certified Gluten-Free.
Made with Unique & Nutritious Ingredients.
Eating whole, real food is joyful, generous and true. It awakens your connection to your body and to the earth....
read more
.
Categories:
Crackers & Breadsticks
,
食品
,
クラッカー&ブレッドスティック
,
Продукты Питания
,
Крекер И Соломка
,
크래커 & 브래드스틱
Последнее редактирование модератором: