Laud Herb in English
English-speaking LH analyst
Команда форума
Сообщения

11.375
Реакции

5
...Increase Lean Muscle Mass. Longer Workouts. 100 Servings. Dietary Supplement. 100% Pharmaceutical Grade...
​
Full product title:
Labrada Nutrition, Crealean Strength, 100% Pure Creatine Monohydrate, 1 Lb 1 Oz (500 G)
Brand:
Labrada Nutrition
iHerb product id:
25372
Laud Herb Tag:
25372



Price:
$24.99
Extra Discount:
Yes
Free shipping:
Yes, to 150 countries
(for orders over $40)
iHerb customers rating:
5!!!
iHerb customer reviews:
9
Best choice?
May be...
(see
reviews
)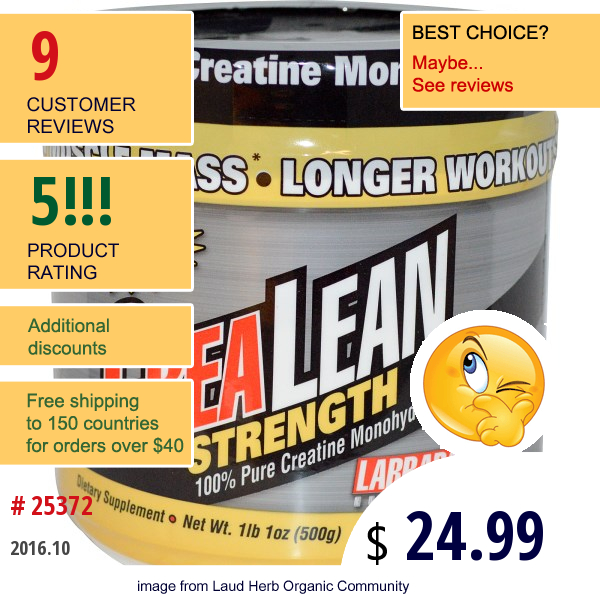 Description:
Increase Lean Muscle Mass.
Longer Workouts.
100 Servings.
Dietary Supplement.
100% Pharmaceutical Grade.
CreaLean 100% Creatine Monohydrate contains only pure pharmaceutical grade German creatine monohydrate. Research shows that oral administration of creatine, several times daily, increases muscle stores of creatine by as much as 50%, resulting in lean body mass gains.
Creatine supplementation may also increase muscle torque production, reduce plasma ammonia, and aid muscle fiber in maintaining a higher phosphocreatine level, resulting in the ability to sustain higher workout intensity levels for longer periods of time.
Quality Guarantee Seal - Every Labrada products is tested by an independent lab for purity and potency....
read more
.
Categories:
Labrada Nutrition
,
Sports
,
Creatine
,
Creatine Powder
,
Pre Workout Formulas
,
スポーツ
,
クレアチン
,
クレアチン パウダー
,
プレワークアウトフォーミュラ
,
Спорт
,
Креатин
,
Креатин Порошок
,
Перед Тренировочные Формулы
,
스포츠
,
크레아틴
,
크레아틴 분말
,
운동전 섭취 포뮬라
Последнее редактирование модератором: