Laud Herb in English
English-speaking LH analyst
Команда форума
Сообщения

11.375
Реакции

5
...Description:. Paraben Fee. Chemical-Free. Natural Raw. Non-Toxic. Biodegradable...
​
Full product title:
Natures Paradise, Body Organic, Coconut Cream Foaming Body Wash, 18 Oz (532.32 Ml)
Brand:
Natures Paradise
iHerb product id:
25848
Laud Herb Tag:
25848



Price:
$9.55
Extra Discount:
Yes
Free shipping:
Yes, to 150 countries
(for orders over $40)
iHerb customers rating:
4.14
iHerb customer reviews:
7
Best choice?
May be...
(see
reviews
)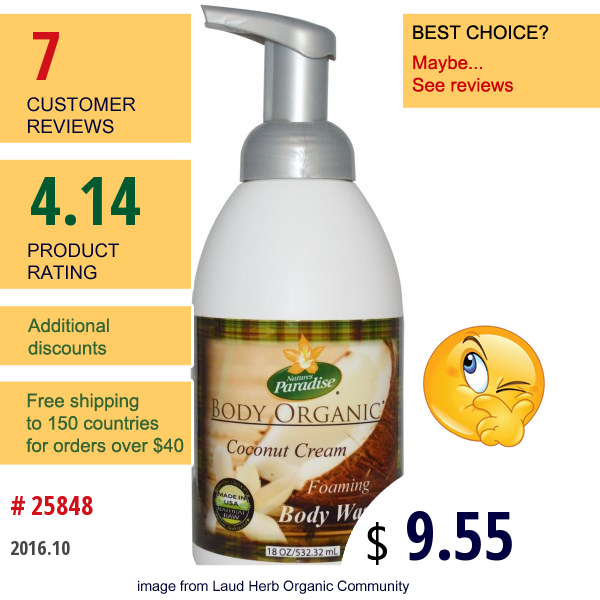 Description:
Description:
Paraben Fee.
Chemical-Free.
Natural Raw.
Non-Toxic.
Biodegradable.
BPA Free.
No Phthalates.
No Bisphenol A.
Cruelty Free and Vegan.
Gluten Free.
Peanut Free.
Raw Unrefined Ingredients.
Body Organic Coconut Foaming Body Wash is made with natural ingredients making it gentle to the skin. Yet, tough on deep cleaning as the mixture of Coconut Oil soap and Raw Apple Cider Vinegar create a deep cleansing property. Don't forget to feed your skin with Unrefined Sunflower...
read more
.
Categories:
Skin Health
,
Argan
,
肌の健康
,
アルガンオイル
,
Здоровье Кожи
,
Аргановое
,
피부 건강
,
아르간 오일
Последнее редактирование модератором: