Laud Herb in English
English-speaking LH analyst
Команда форума
Сообщения

11.375
Реакции

5
...Pure Tested. Robust Flavor. Wheat Free. Dairy Free. RS ELISA Certified. Pedigreed Pure Seed...
​
Full product title:
Bobs Red Mill, Gluten Free, Old Fashioned Rolled Oats, 32 Oz (907 G)
Brand:
Bobs Red Mill
iHerb product id:
9951
Laud Herb Tag:
9951



Price:
$8.27
Extra Discount:
Yes
Free shipping:
Yes, to 150 countries
(for orders over $40)
iHerb customers rating:
4.78
iHerb customer reviews:
186
Best choice?
Absolutely!!!
(see
reviews
)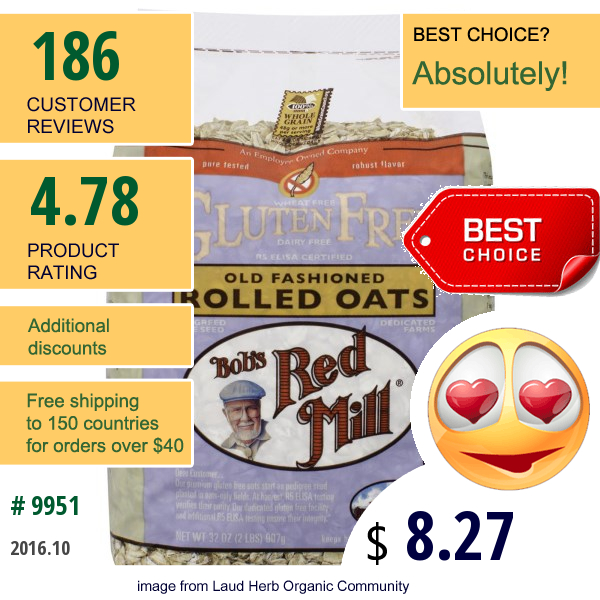 Description:
Pure Tested.
Robust Flavor.
Wheat Free.
Dairy Free.
RS ELISA Certified.
Pedigreed Pure Seed.
Dedicated Farms.
Kosher.
Free of Preservatives and Chemical Additives.
Dear Customer.
Our premium gluten free oats start as pedigreed seed planted in oats-only fields. At harvest, R5 ELISA testing verifies their purity. Our dedicated gluten free facility and additional R5 ELISA testing ensure their integrity.*.
These aren't ordinary oats.
Our Gluten Free Rolled Oats are pure. They are grown by over 200 farmers on clean, dedicated oat-growing fields. They plant only pedigreed seed stock. Each farm delivery is sampled hundreds of times and tested with an R5 ELISA gluten test to ensure...
read more
.
Categories:
Best Choice
,
Cereals & Breakfast Foods
,
Cereal
Последнее редактирование модератором: