Laud Herb in English
English-speaking LH analyst
Команда форума
Сообщения

11.375
Реакции

5
...You Deserve The Best. Quality Guaranteed. The Energy Supplements. High Potency....
​
Full product title:
Natures Plus, Copper, 3 Mg, 90 Tablets
Brand:
Natures Plus
iHerb product id:
7609
Laud Herb Tag:
7609



Price:
$7.57
Extra Discount:
Yes
Free shipping:
Yes, to 150 countries
(for orders over $40)
iHerb customers rating:
4.23
iHerb customer reviews:
13
Best choice?
May be...
(see
reviews
)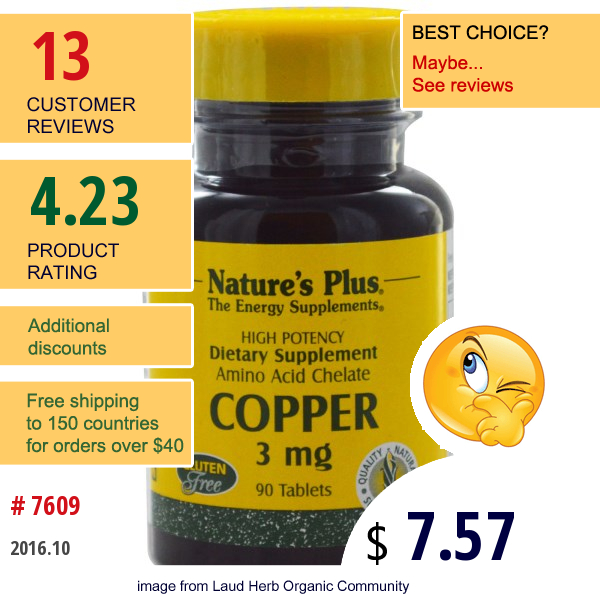 Description:
You Deserve The Best.
Quality Guaranteed.
The Energy Supplements.
High Potency.
Dietary Supplement.
Amino Acid Chelate.
Vegetarian.
Gluten Free.
Quality Natural Supplements.
Nutritional support for natural defenses and overall well-being.
This Copper formula from Nature's Plus delivers 3 mg of the essential mineral, which is needed for the creation of red blood cells, for connective tissue and nerve fibers. Manufactured with the Biotron process of amino acid chelation. Many people are aware that their regular diet does not consistently supply enough of the food-based nutrients...
read more
.
Categories:
Minerals
,
Copper
Последнее редактирование модератором: