Laud Herb in English
English-speaking LH analyst
Команда форума
Сообщения

11.375
Реакции

5
...For Gentle Exfoliation. Paraben Free. Sulfate Free. Gluten Free. Cruelty Free....
​
Full product title:
Organix South, Theraneem Naturals, Neem Therapé Cleansing Bar, Neem Leaf, Oil & Bark, 4 Oz (113 G)
Brand:
Organix South
iHerb product id:
17648
Laud Herb Tag:
17648



Price:
$5.28
Extra Discount:
Yes
Free shipping:
Yes, to 150 countries
(for orders over $40)
iHerb customers rating:
4.75
iHerb customer reviews:
8
Best choice?
May be...
(see
reviews
)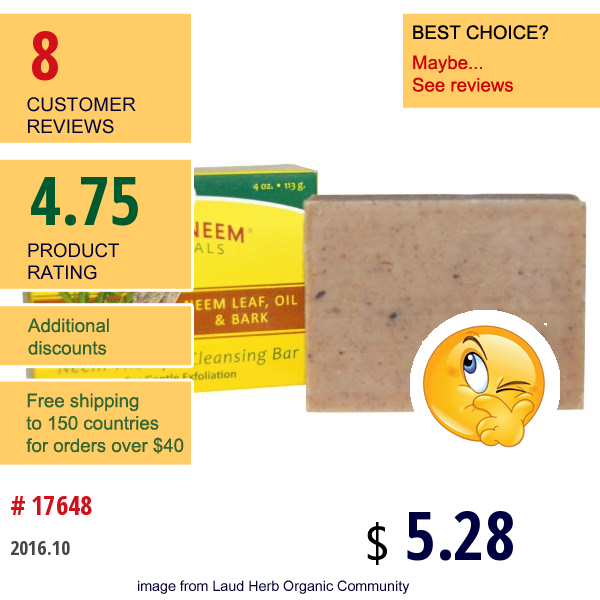 Description:
For Gentle Exfoliation.
Paraben Free.
Sulfate Free.
Gluten Free.
Cruelty Free.
Vegan.
Packed with antioxidants, Neem protects, nourishes and moisturizes even the most sensitive skin. With 10% certified-organic Neem oil, this bar is ideal for gardeners' hands, dry skin, gentle exfoliation and great for the whole body.
Hand-crafted with only the finest quality organic oils.
Our new solar-powered curing facility...
read more
.
Categories:
Organix South
,
Bath & Beauty
,
Bath & Shower
,
Soap
,
Bar Soap
,
Herbs
,
Neem
Последнее редактирование модератором: