Laud Herb in English
English-speaking LH analyst
Команда форума
Сообщения

11.375
Реакции

5
...Amino-Charged Energy Drink. Aminos + CLA & Green Coffee. Taurine. Caffeine...
​
Full product title:
Allmax Nutrition, Aminocuts, Pina Colada, 7.4 Oz (210 G)
Brand:
Allmax Nutrition
iHerb product id:
67719
Laud Herb Tag:
67719



Price:
$19.99
Extra Discount:
Yes
Free shipping:
Yes, to 150 countries
(for orders over $40)
iHerb customers rating:
0
Best choice?
May be...
(see
reviews
)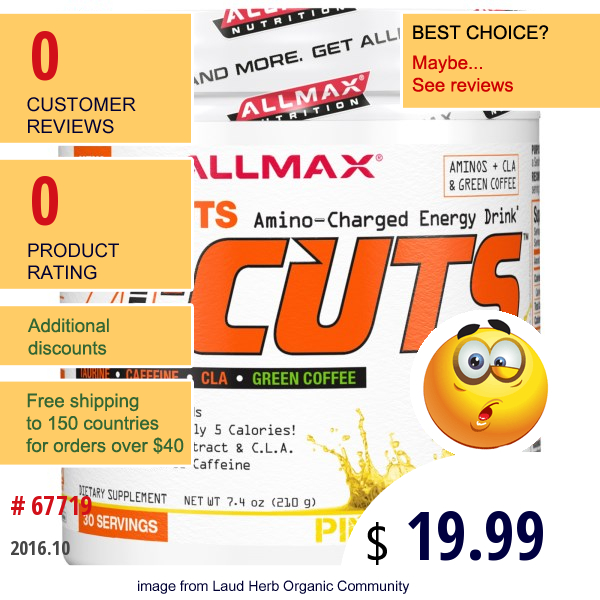 Description:
Amino-Charged Energy Drink.
Aminos + CLA & Green Coffee.
Taurine.
Caffeine.
4.2 g Amino Acids.
Sugar-Free & Only 5 Calories!
Natural-Source Caffeine.
Dietary Supplement.
30 Servings.
cGMP.
Gluten Free.
Purpose:
Formulated to provide Energy, Focus and Diet Support in conjunction with a Sensible Diet, Exercise and / or Physical Activity.
Energy to Train, Aminos to Maintain and Diet Support!
AminoCuts could be the most delicious drink mix we've ever made. Perfect to enjoy anytime; easy-to-mix, full of Aminos and loaded with ingredients like natural-source Caffeine, Taurine, C.L.A and Green Coffee extract - AminoCuts...
read more
.
Categories:
Allmax Nutrition
,
Energy Formulas
,
エネルギー、疲労
,
エネルギーフォーミュラ
,
Формулы Для Энергии
,
에너지 보충제
Последнее редактирование модератором: