Laud Herb in English
English-speaking LH analyst
Команда форума
Сообщения

11.375
Реакции

5
...Sugar Free. 15 Calories. Natural Lemon-Berry Flavor. Dietary Supplement. Quick...
​
Full product title:
Natures Way, Aqua Slender, Weight Loss Drink Mix, Lemon-Berry Flavor, 10 Packets, 7 G Each
Brand:
Natures Way
iHerb product id:
47696
Laud Herb Tag:
47696



Price:
$6.61
Extra Discount:
Yes
Free shipping:
Yes, to 150 countries
(for orders over $40)
iHerb customers rating:
3.4
iHerb customer reviews:
5
Best choice?
May be...
(see
reviews
)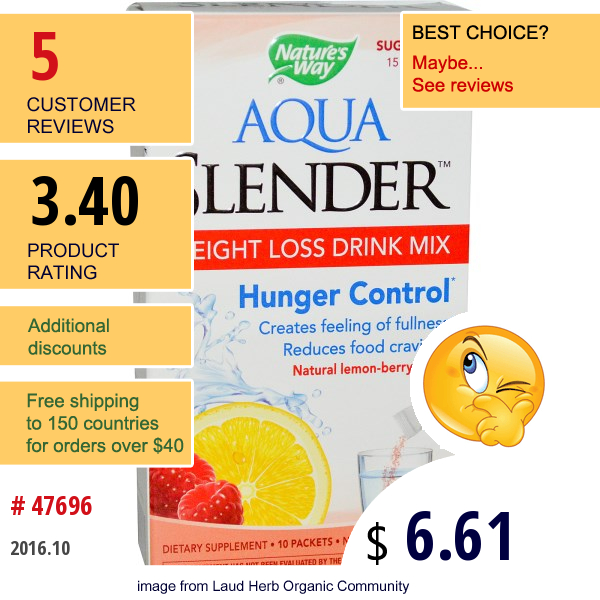 Description:
Sugar Free.
15 Calories.
Natural Lemon-Berry Flavor.
Dietary Supplement.
Quick. Simple. Effective.
No Stimulants.
Sweetened with Xylitol.
Hunger Control.
Creates Feeling of Fullness.
Reduces Food Cravings.
Aqua Slender weight loss drink mix reduces hunger & cravings to help you eat less.
What is Aqua Slender?.
It's a delicious, naturally refreshing drink mix that supports your weight loss plan by helping reduce your daily caloric intake.
How does it work?.
Each serving of Aqua Slender provides 15 mg of Proteinase Inhibitor ll (Pl-2), a unique protein found in potatoes. PI-2 enhances your body's natural release of...
read more
.
Categories:
Condition Specific Formulas
,
Diet Formulas
,
特定症状処方
,
ダイエットフォーミュラ
,
ダイエット、減量
,
Формулы По Специфическим Заболеваниям
,
Диета Формулы
,
건강 상태별 포뮬라
,
다이어트 포뮬라
Последнее редактирование модератором: