Laud Herb in English
English-speaking LH analyst
Команда форума
Сообщения

11.375
Реакции

5
...Since 1947. Antioxidant Support. Immune Support. Gluten, Wheat & Dairy Free....
​
Full product title:
Solgar, Vitamin C With Rose Hips, 500 Mg, 250 Tablets
Brand:
Solgar
iHerb product id:
48599
Laud Herb Tag:
48599



Price:
$16.96
Extra Discount:
Yes
Free shipping:
Yes, to 150 countries
(for orders over $40)
iHerb customers rating:
4.33
iHerb customer reviews:
6
Best choice?
May be...
(see
reviews
)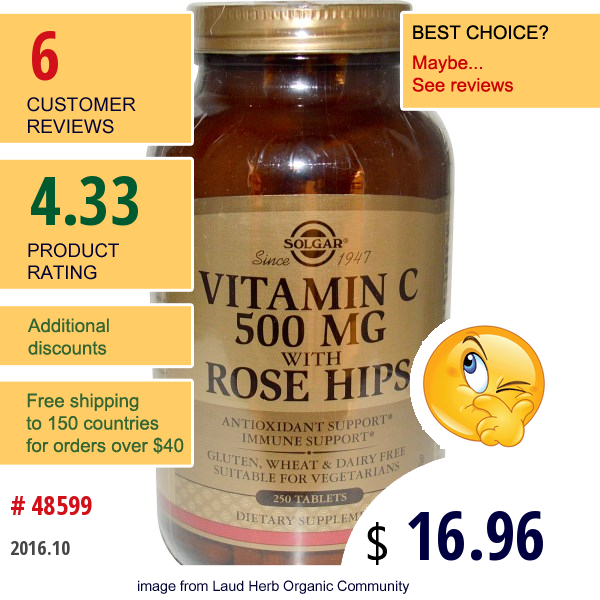 Description:
Since 1947.
Antioxidant Support.
Immune Support.
Gluten, Wheat & Dairy Free.
Suitable for Vegetarians.
Kosher Parve.
Dietary Supplement.
Vitamin C is an essential, water-soluble vitamin which must be obtained through diet or supplementation. It is one of the most potent antioxidant nutrients and plays an essential role in the functioning of white blood cells, which are vital components of the immune system. Additionally, it aids in collagen (connective tissue) formation, which is important for healthy nails, skin, hair and joints. Vitamin C promotes respiratory...
read more
.
Categories:
Solgar
,
Vitamins
,
Vitamin C
,
Vitamin C Bioflavonoids Rosehips
Последнее редактирование модератором: