Laud Herb in English
English-speaking LH analyst
Команда форума
Сообщения

11.375
Реакции

5
...100% Natural. Fresh Breath. Clean Teeth. Healthy Gums. Total Confidence....
​
Full product title:
Kiss My Face, Oc, Mouthwash, Certified Organic Aloe Vera, 8.45 Oz (250 Ml)
Brand:
Kiss My Face
iHerb product id:
6528
Laud Herb Tag:
6528



Price:
$4.58
Extra Discount:
Yes
Free shipping:
Yes, to 150 countries
(for orders over $40)
iHerb customers rating:
4.39
iHerb customer reviews:
18
Best choice?
May be...
(see
reviews
)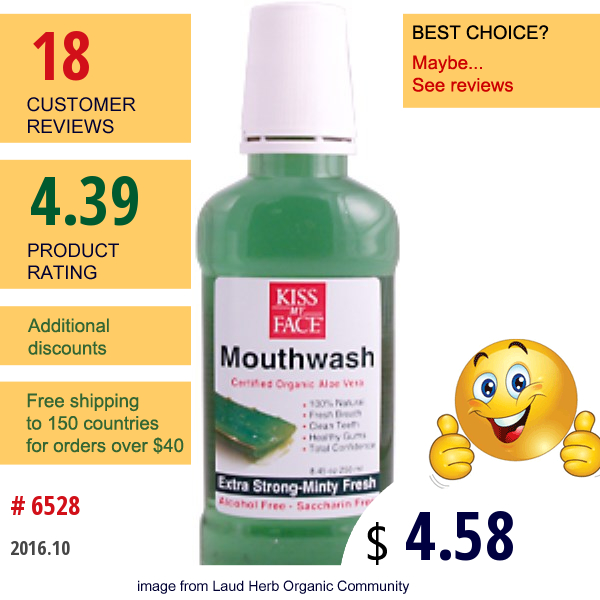 Description:
100% Natural.
Fresh Breath.
Clean Teeth.
Healthy Gums.
Total Confidence.
Extra Strong - Minty Fresh.
Alcohol Free - Saccharin Free.
Kiss My Face Mouthwash is made using natural ingredients and is free from alcohol and saccharin. Using Certified Organic Aloe Vera and pure essential oils, it provides a natural, soothing, cleansing action plus minty fresh breath. The herbs combine to promote healthy gums and clean teeth.
Grapefruit Seed Extract.
Horse Chestnut.
Tea Tree Oil.
Gotu Kola.
Peppermint Oil.
Menthol.
Using the latest nutraceutical dental research, the Kiss My Face product range has been carefully formulated to maximize the unique beneficial...
read more
.
Последнее редактирование модератором: