Laud Herb in English
English-speaking LH analyst
Команда форума
Сообщения

11.375
Реакции

5
...Azadirachta Indica Dietary Supplement Made with Organic Neem Leaf. Vegetarian Capsules...
​
Full product title:
Neemaura Naturals Inc, Neem Leaf Capsules, 400 Mg, 60 Capsules
Brand:
Neemaura Naturals Inc
iHerb product id:
12395
Laud Herb Tag:
12395



Price:
$9.95
Extra Discount:
Yes
Free shipping:
Yes, to 150 countries
(for orders over $40)
iHerb customers rating:
4.79
iHerb customer reviews:
14
Best choice?
May be...
(see
reviews
)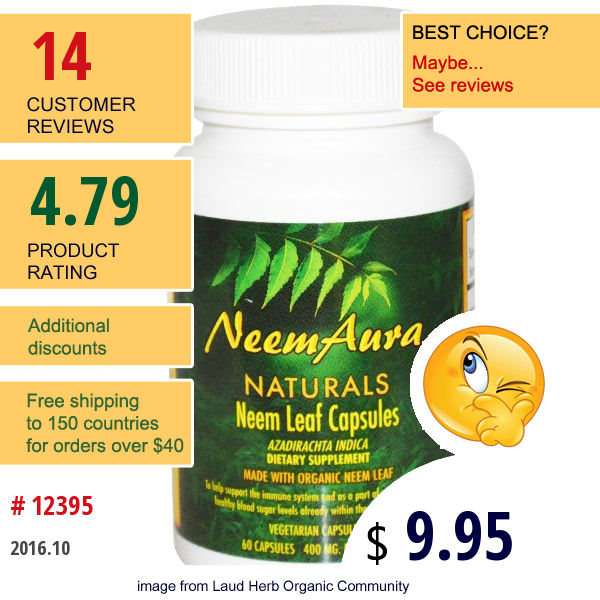 Description:
Azadirachta Indica.
Dietary Supplement.
Made with Organic Neem Leaf.
Vegetarian Capsules.
Certified Organic by International Certification Services Inc.
Cruelty Free.
Not Tested on Animals.
To help support the immune system and as a part of diet to maintain healthy blood sugar levels already within the normal range.
Neem Aura utilizes organically grown **Neem leaf to make our capsules. Neem is considered to be one of the most generally useful herbs in the world, with a history of use in the Ayurvedic tradition. Neem supports proper immune system function...
read more
.
Categories:
Neemaura Naturals Inc
Последнее редактирование модератором: