Laud Herb in English
English-speaking LH analyst
Команда форума
Сообщения

11.375
Реакции

5
...Be Well. Be Vibrant.. USDA Organic. Pure Nutrition. Great Taste. Gluten-Free....
​
Full product title:
Teras Whey, Grass Fed Organic Whey Protein, Organic Coffee, 12 Packets, 1 Oz (28 G) Each
Brand:
Teras Whey
iHerb product id:
50590
Laud Herb Tag:
50590



Price:
$24.61
Extra Discount:
Yes
Free shipping:
Yes, to 150 countries
(for orders over $40)
iHerb customers rating:
0
Best choice?
May be...
(see
reviews
)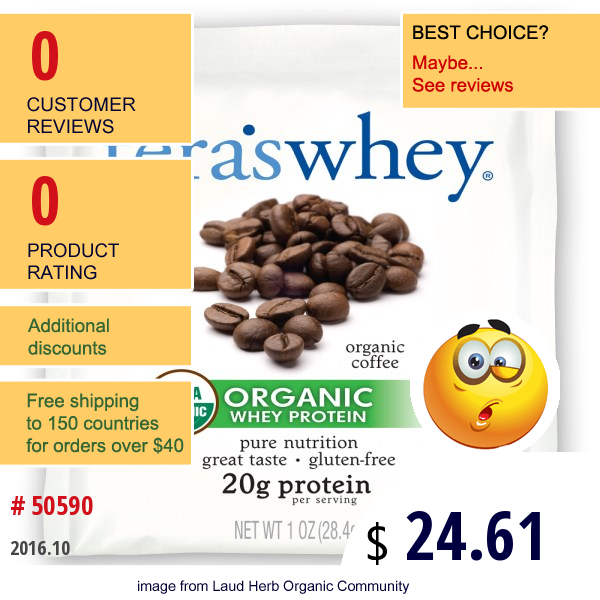 Description:
Be Well. Be Vibrant.
USDA Organic.
Pure Nutrition.
Great Taste.
Gluten-Free.
20 g Protein Per Serving.
Wisconsin Dairy.
Certified Organic by MOSA.
Kosher Dairy.
Pure Nutrition, Artisan Ingredients, Earth Friendly.
Tera'swhey provides the highest quality, natural, great tasting nutrition for your healthy, vibrant lifestyle.
Starting with carefully sourced whey from small family farms and artisan cheese makers in the dairy heartland of America - Wisconsin.
Certified Organic.
Offering fresh certified organic whey protein from ethically treated cow milk sources, paired with premium organic ingredients including antioxidant super fruits and low...
read more
.
Последнее редактирование модератором: