Laud Herb in English
English-speaking LH analyst
Команда форума
Сообщения

11.375
Реакции

5
...Tips Best Organic - Breast Paid 2014. Midwife Tested Extra Soft. Natural Materials...
​
Full product title:
Natracare, Nursing Pads, 26 Pads
Brand:
Natracare
iHerb product id:
64127
Laud Herb Tag:
64127



Price:
$4.49
Extra Discount:
Yes
Free shipping:
Yes, to 150 countries
(for orders over $40)
iHerb customers rating:
2.5
iHerb customer reviews:
2
Best choice?
May be...
(see
reviews
)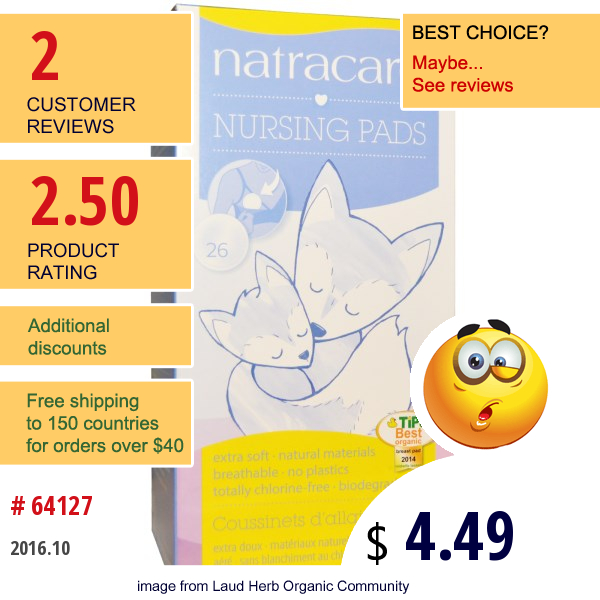 Description:
Tips Best Organic - Breast Paid 2014.
Midwife Tested.
Extra Soft.
Natural Materials.
Breathable.
No Plastics.
Totally Chlorine-Free.
Biodegradable.
Natural nursing pads.
Cool and comfortable design to protect your clothes.
Made from totally chlorine-free, natural and sustainable materials.
Why Natural Nursing Pads?.
Following the World Health Organizations guidance, exclusive breastfeeding is advised for the first six months of your infant's life as it provides all the nutrients your baby needs. So why does it make sense to choose a nursing pad made from natural materials? Unlike many conventional projects, natracare nursing pads do not contain chlorine-bleached...
read more
.
Categories:
Natracare
,
Feminine Care
,
女性の健康
,
女性用衛生品、パーソナルケア
,
Женское Здоровье
,
Личный Уход Для Женщин
,
여성 건강
Последнее редактирование модератором: