Laud Herb in English
English-speaking LH analyst
Команда форума
Сообщения

11.375
Реакции

5
...Integrative Science. Naturally Effective. Allergy Response. Non-Drowsy. Inhibits Allergic Response...
​
Full product title:
Rainbow Light, Allergy Rescue, 60 Tablets
Brand:
Rainbow Light
iHerb product id:
14203
Laud Herb Tag:
14203



Price:
$20.14
Extra Discount:
Yes
Free shipping:
Yes, to 150 countries
(for orders over $40)
iHerb customers rating:
4.00
iHerb customer reviews:
23
Best choice?
May be...
(see
reviews
)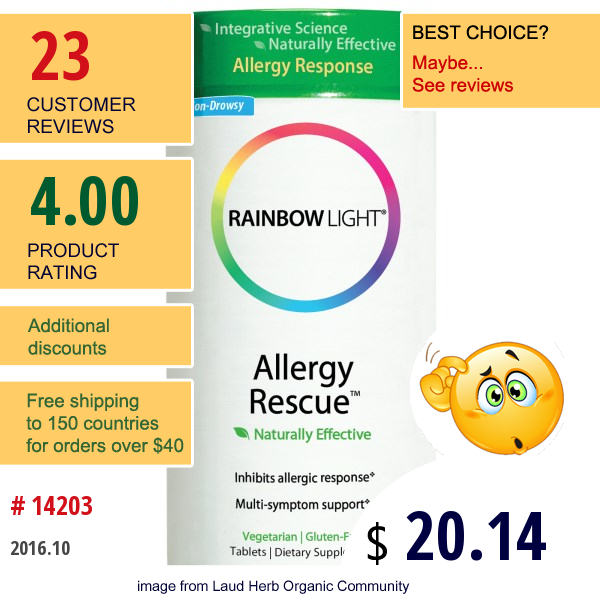 Description:
Integrative Science.
Naturally Effective.
Allergy Response.
Non-Drowsy.
Inhibits Allergic Response.
Multi-Symptom Support.
Vegetarian | Gluten-Free.
Dietary Supplement.
EcoGuard Bottle.
Vegetarian.
Allergy Rescue is a naturally effective integrative health therapy formulated to deliver a powerful combination of clinically researched ingredients, balanced for complete care.
Designed to:
Inhibit allergic response to indoor and outdoor triggers with Quercetin, Vitamin C and Bromelain, to moderate the release of excess histamine following exposure to environmental irritants.
Ease occasional allergy discomforts including runny nose, itchy eyes and skin...
read more
.
Categories:
Rainbow Light
,
Allergies
,
Allergy Formulas
Последнее редактирование модератором: