Laud Herb in English
English-speaking LH analyst
Команда форума
Сообщения

11.375
Реакции

5
...Natural. Cruelty-Free. Paraben-Free. 100% Vegan. With Organic Argan, Jojoba and Kukui Oils...
​
Full product title:
Derma E, Skin, Hair And Nail Oil, 1 Fl Oz (30 Ml)
Brand:
Derma E
iHerb product id:
55118
Laud Herb Tag:
55118



Price:
$12.40
Extra Discount:
Yes
Free shipping:
Yes, to 150 countries
(for orders over $40)
iHerb customers rating:
4.00
iHerb customer reviews:
4
Best choice?
May be...
(see
reviews
)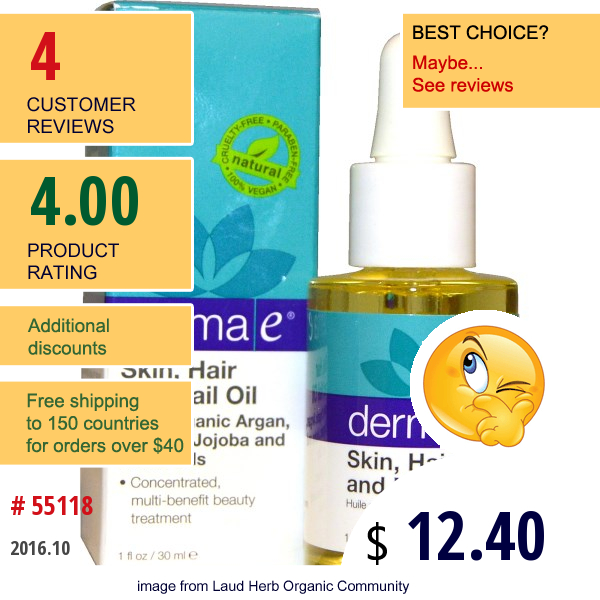 Description:
Natural.
Cruelty-Free.
Paraben-Free.
100% Vegan.
With Organic Argan, Jojoba and Kukui Oils.
Concentrated, Multi-Benefit Beauty Treatment.
Gluten-Free.
GMO-Free.
About derma e.
derma e is a family owned company based in California.
We've been making trusted, vitamin rich, natural skincare since 1984.
Our products are cruelty-free and 100% vegan.
Never any harmful parabens, phthalates, sodium lauryl sulfate, petrolatum, mineral oil, artificial colors or GMOs.
Natural skincare:
solutions that work.
We're serious about skincare and provide only the finest natural products available. Every product we make is crafted with powerful, active ingredients...
read more
.
Categories:
Derma E
,
Skin Health
,
Bath & Beauty
,
Hair & Scalp
,
肌の健康
,
バス&ビューティー
,
髪&頭皮
,
Здоровье Кожи
,
Для Душа И Красоты
,
Волосы И Кожа Головы
,
피부 건강
,
목욕 및 미용
,
헤어 & 두피
Последнее редактирование модератором: