Laud Herb in English
English-speaking LH analyst
Команда форума
Сообщения

11.375
Реакции

5
...Everyday-Safe. Naturally Effective. Supports Detoxification. Protects & Regenerates...
​
Full product title:
Rainbow Light, Liver Safeguard, 50 Veggie Caps
Brand:
Rainbow Light
iHerb product id:
68950
Laud Herb Tag:
68950



Price:
$25.19
Extra Discount:
Yes
Free shipping:
Yes, to 150 countries
(for orders over $40)
iHerb customers rating:
0
Best choice?
May be...
(see
reviews
)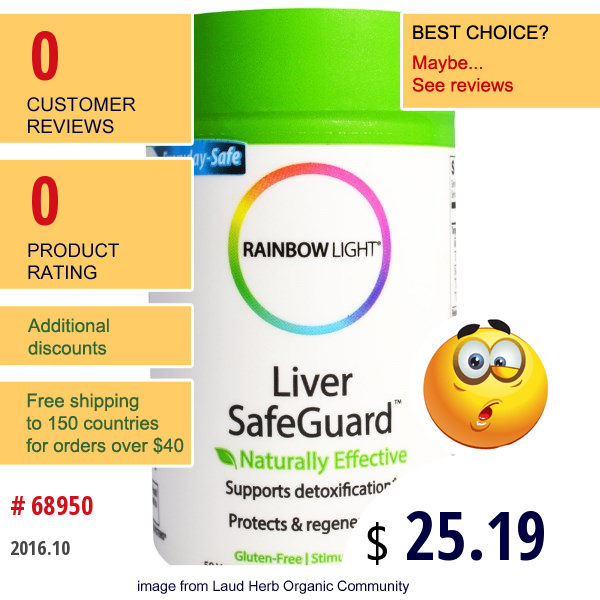 Description:
Everyday-Safe.
Naturally Effective.
Supports Detoxification.
Protects & Regenerates.
Gluten-Free.
Stimulant-Free.
Dietary Supplement.
EcoGuard Bottle.
Siliphos.
Feel the Difference Guarantee.
Liver Safeguard is a naturally effective integrative health therapy formulated to safeguard liver health and increase glutathione for daily detoxification. Designed to:
Support liver detoxification from environmental and metabolic sources featuring a patented bioavailable milk thistle, plus N-acetyl L-cysteine and L-glutathione.
Inhibit excess fat accumulation and promote liver rejuvenation with the combined power of synergized...
read more
.
Categories:
Rainbow Light
,
Condition Specific Formulas
,
Liver Support Formulas
,
特定症状処方
,
肝臓サポート対策
,
건강 상태별 포뮬라
,
간겅강 포뮬라
Последнее редактирование модератором: