Laud Herb in English
English-speaking LH analyst
Команда форума
Сообщения

11.375
Реакции

5
...All Natural Ingredients. No Chemicals. Homeopathic. Fast Acting. Sore Throat Relief...
​
Full product title:
Seagate, Olive Leaf Throat Spray, Raspberry Spearmint, 1 Fl Oz (30 Ml)
Brand:
Seagate
iHerb product id:
16771
Laud Herb Tag:
16771



Price:
$9.95
Extra Discount:
Yes
Free shipping:
Yes, to 150 countries
(for orders over $40)
iHerb customers rating:
4.53
iHerb customer reviews:
78
Best choice?
May be...
(see
reviews
)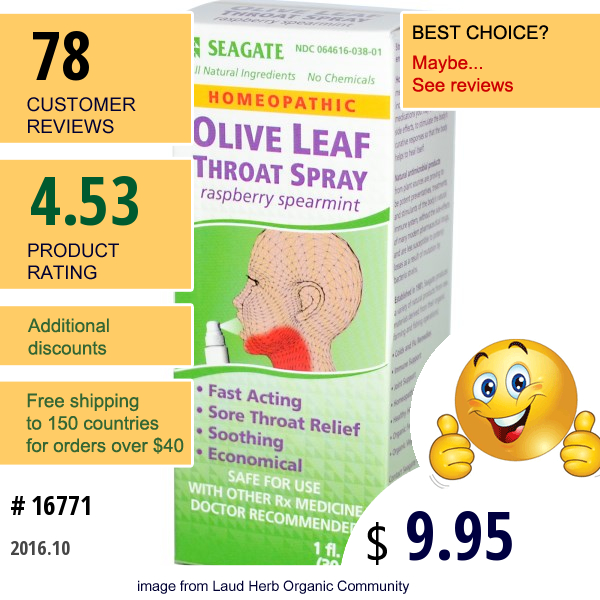 Description:
All Natural Ingredients.
No Chemicals.
Homeopathic.
Fast Acting.
Sore Throat Relief.
Soothing.
Economical.
Safe for Use with Other Rx Medicine.
Doctor Recommended.
Strong enough for adults, gentle enough for children.
Homeopathy is a natural approach to medicine that works without contraindications (interference with other medications you may be taking) or side effects, to stimulate the body's curative responses so that the body helps to heal itself.
Natural antimicrobial products from plant sources are proving to be potent preventatives, treatments, and stimulants of the body's natural immune system, without the side-effects of many modern pharmaceutical drugs, and are less...
read more
.
Categories:
Seagate
,
Homeopathy
Последнее редактирование модератором: