Laud Herb in English
English-speaking LH analyst
Команда форума
Сообщения

11.375
Реакции

5
...Non GMO. Most Advanced. The Enzyme Experts. Therapeutic. #1 Selling Enzyme Brand...
​
Full product title:
Enzymedica, Repair Gold, 60 Capsules
Brand:
Enzymedica
iHerb product id:
67002
Laud Herb Tag:
67002



Price:
$29.99
Extra Discount:
Yes
Free shipping:
Yes, to 150 countries
(for orders over $40)
iHerb customers rating:
5.00
iHerb customer reviews:
1
Best choice?
May be...
(see
reviews
)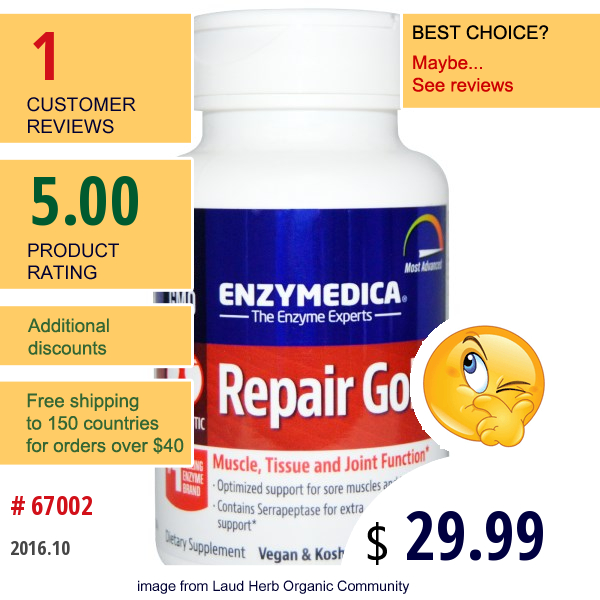 Description:
Non GMO.
Most Advanced.
The Enzyme Experts.
Therapeutic.
#1 Selling Enzyme Brand.
Dietary Supplement.
Vegan & Kosher Parve.
No Fillers Added.
Muscle, Tissue, and Joint Function.
Optimized support for sore muscles and joint discomfort.
Contains serrapeptase for extra support.
Overexertion at the gym, at work or at play can lead to fatigued muscles and sore joints.
Repair Gold.
 contains Serrapeptase with Bromelain, Papain and additional enzymes known to support fatigued muscles and joints. The enzymes work synergistically with the body's own mechanisms of renewal and may support the body's natural response to overexertion and strenuous activities....
read more
.
Categories:
Enzymedica
,
Inflammation
,
Enzymes
,
Serrapeptase
,
Воспаление
,
Ферменты
,
Серрапептаза
,
염증치료
,
효소
,
세라펩타제
Последнее редактирование модератором: