Laud Herb in English
English-speaking LH analyst
Команда форума
Сообщения

11.375
Реакции

5
...Formerly CarbGest. Non-GMO. The Enzymes Experts. Digestive. #1 Selling Enzyme Brand...
​
Full product title:
Enzymedica, Phenolgest, 60 Capsules
Brand:
Enzymedica
iHerb product id:
23379
Laud Herb Tag:
23379



Price:
$23.98
Extra Discount:
Yes
Free shipping:
Yes, to 150 countries
(for orders over $40)
iHerb customers rating:
4.5
iHerb customer reviews:
2
Best choice?
May be...
(see
reviews
)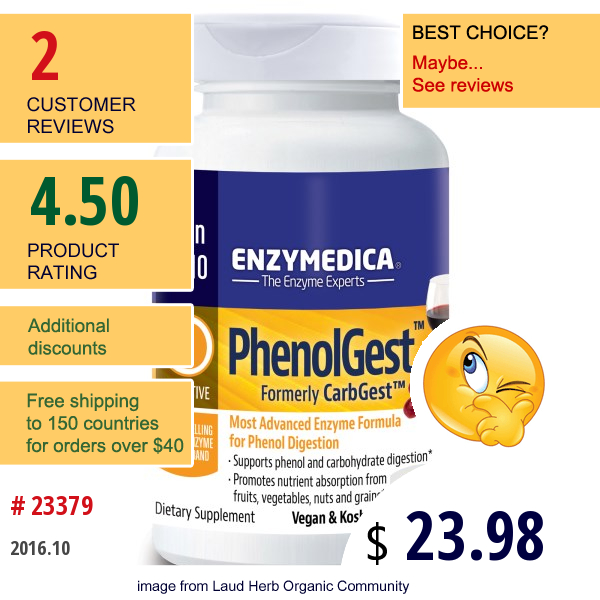 Description:
Formerly CarbGest.
Non-GMO.
The Enzymes Experts.
Digestive.
#1 Selling Enzyme Brand.
Dietary Supplement.
Vegan & Kosher.
Most Advanced Enzyme Formula for Phenol Digestion.
Supports phenol and carbohydrate digestion.
Promotes nutrient absorption from fruits, vegetables, nuts and grains.
Phenols are compounds found in many foods like antioxidants, food colorings and food flavorings. They can cause digestive discomfort to those who have difficulty processing them.
PhenolGest is formulated with the enzyme Xylanase to enhance the digestion of phenolic compounds in fruits, nuts, vegetables, grains and food additives. Other blends of enzymes are included to support healthy phenol and carbohydrate...
read more
.
Categories:
Enzymedica
,
Digestive Enzymes
Последнее редактирование модератором: