Laud Herb in English
English-speaking LH analyst
Команда форума
Сообщения

11.375
Реакции

5
...Supports Bone Health. Coated for Easy Swallowing. Dietary Supplement. Free of Gluten & Wheat...
​
Full product title:
Rexall Sundown Naturals, Calcium, Plus Vitamin D3, 600 Mg, 120 Tablets
Brand:
Sundown Naturals
iHerb product id:
41051
Laud Herb Tag:
41051



Price:
$7.26
Extra Discount:
Yes
Free shipping:
Yes, to 150 countries
(for orders over $40)
iHerb customers rating:
4.67
iHerb customer reviews:
3
Best choice?
May be...
(see
reviews
)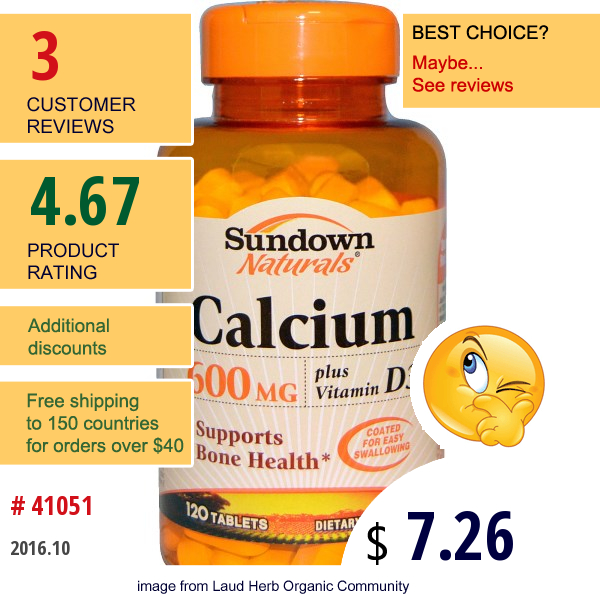 Description:
Supports Bone Health.
Coated for Easy Swallowing.
Dietary Supplement.
Free of Gluten & Wheat.
Guaranteed Quality - Laboratory Tested.
Smart Facts.
Calcium is the primary mineral responsible for strong bones. The body also uses Calcium for proper muscle contraction and nerve function. Vitamin D assists in maintaining a health immune system. Because the body cannot produce Calcium, a balanced diet, regular exercise, healthy lifestyle choices and adequate intake of Calcium and Vitamin D can play a role in maintaining bone health.
Just two tablets of Calcium 600 plus Vitamin D give you the protection of 120% of the Daily...
read more
.
Categories:
Sundown Naturals
,
Minerals
,
Calcium
,
ミネラル
,
カルシウム
,
カルシウム ビタミンD
,
Минералы
,
Кальций
,
미네랄
,
칼슘
Последнее редактирование модератором: