Laud Herb in English
English-speaking LH analyst
Команда форума
Сообщения

11.375
Реакции

5
...Established 1971. Gluten-Free. Supports Energy. Dietary Supplement. Kosher Parve...
​
Full product title:
Country Life, Niacinamide, 500 Mg, 100 Tablets
Brand:
Country Life
iHerb product id:
17393
Laud Herb Tag:
17393



Price:
$8.30
Extra Discount:
Yes
Free shipping:
Yes, to 150 countries
(for orders over $40)
iHerb customers rating:
4.00
iHerb customer reviews:
4
Best choice?
May be...
(see
reviews
)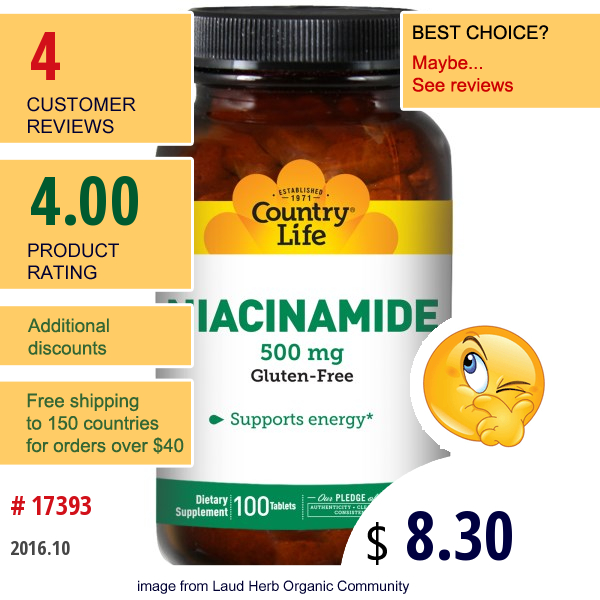 Description:
Established 1971.
Gluten-Free.
Supports Energy.
Dietary Supplement.
Kosher Parve.
— Our Pledge of Integrity —.
Authenticity.
Cleanliness.
Freshness.
Consistency.
Accuracy.
Niacin (Vitamin B3) is required for the metabolism of carbohydrates and protein into energy. Niacin also supports the health of the nervous system. Niacinamide provides the benefits of niacin without the unpleasant skin flushing.
YES.
Certified Vegan by the...
read more
.
Categories:
Country Life
,
Vitamins
,
Vitamin B
,
Vitamin B3
Последнее редактирование модератором: