Laud Herb in English
English-speaking LH analyst
Команда форума
Сообщения

11.375
Реакции

5
...Energy. Stamina. Anti-Aging. Whole Life-Cycle. Full Spectrum. Mushrooms....
​
Full product title:
Pure Essence, Health Guard Long Life, 30 Tablets
Brand:
Pure Essence
iHerb product id:
64854
Laud Herb Tag:
64854



Price:
$16.99
Extra Discount:
Yes
Free shipping:
Yes, to 150 countries
(for orders over $40)
iHerb customers rating:
0
Best choice?
May be...
(see
reviews
)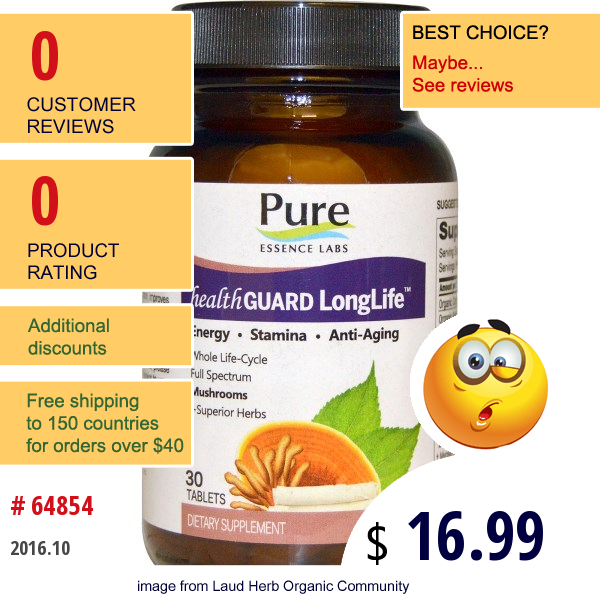 Description:
Energy.
Stamina.
Anti-Aging.
Whole Life-Cycle.
Full Spectrum.
Mushrooms.
+ Superior Herbs.
Dietary Supplement.
Holistic systems of health care hold that a vital force called Essence helps determine how long and how well we live. While processed foods and pollutants drain Essence from the body, specific health tonics help rebuild it. HealthGuard LongLife combines the superstars of mushroom tonics with the world's most Essence-rich botanicals. The result is the world's most profound Essence-longevity tonic....
read more
.
Categories:
Pure Essence
,
Mushroom Mixed Combinations
,
Condition Specific Formulas
,
きのこ、薬用
,
ミックスキノコ
,
特定症状処方
,
Комбинация Грибов
,
Формулы По Специфическим Заболеваниям
,
버섯 조합
,
건강 상태별 포뮬라
Последнее редактирование модератором: