Laud Herb in English
English-speaking LH analyst
Команда форума
Сообщения

11.375
Реакции

5
...2 (Two) x 2 oz Concentrate Refills. Safe Has An Effective Side. Biodegradable. Fragrance-Free...
​
Full product title:
Ecodiscoveries, M2 Mold & Mildew Stain Remover, 2 Bottles, 2 Fl Oz (60 Ml) Each
Brand:
Ecodiscoveries
iHerb product id:
65819
Laud Herb Tag:
65819



Price:
$12.29
Extra Discount:
Yes
Free shipping:
Yes, to 150 countries
(for orders over $40)
iHerb customers rating:
0
Best choice?
May be...
(see
reviews
)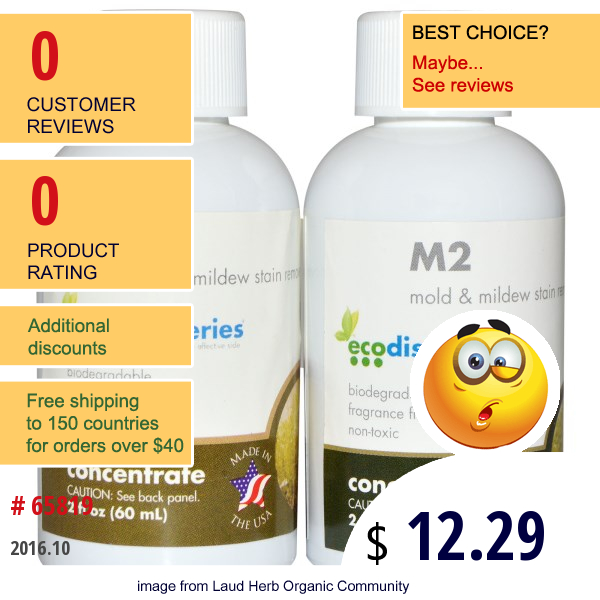 Description:
2 (Two) x 2 oz Concentrate Refills.
Safe Has An Effective Side.
Biodegradable.
Fragrance-Free.
Non-Toxic.
Makes 2, 32 oz Bottles.
About this package:
This plastic tube is made in a low-waste molding facility. The case, bottles, and paper insert are all fully recyclable.
Smaller Carbon Footprint Bigger EcoDifference.
EcoDiscoveries M2 concentrate is the same safe and effective formula in a more economical and eco-friendly concentrate. The same natural plant-derived surfactants are in this 2 oz. bottle. Just add water! Each 2 oz. concentrate makes a full 32 oz bottle of ready-to-use M2. Smaller Carbon Footprint, Bigger EcoDifference.
It...
read more
.
Categories:
Ecodiscoveries
,
Healthy Home & Garden
,
Household Cleaners
,
ヘルシーホーム&ガーデン
,
家庭用清掃洗剤
,
Здоровый Дом И Сад
,
Бытовые Чистящие Средства
,
건강한 가정& 텃밭가꾸기
,
가정용 청소제품
Последнее редактирование модератором: