Laud Herb in English
English-speaking LH analyst
Команда форума
Сообщения

11.375
Реакции

5
...New. Awesome Apple. Made with organic ingredients. Whole-food complex multivitamin...
​
Full product title:
New Chapter, Everykid, Whole-Food Complex Multivitamin, Awesome Apple, 28 Pouches (3.5 G) Each
Brand:
New Chapter
iHerb product id:
11898
Laud Herb Tag:
11898



Price:
$22.07
Extra Discount:
Yes
Free shipping:
Yes, to 150 countries
(for orders over $40)
iHerb customers rating:
4.5
iHerb customer reviews:
2
Best choice?
May be...
(see
reviews
)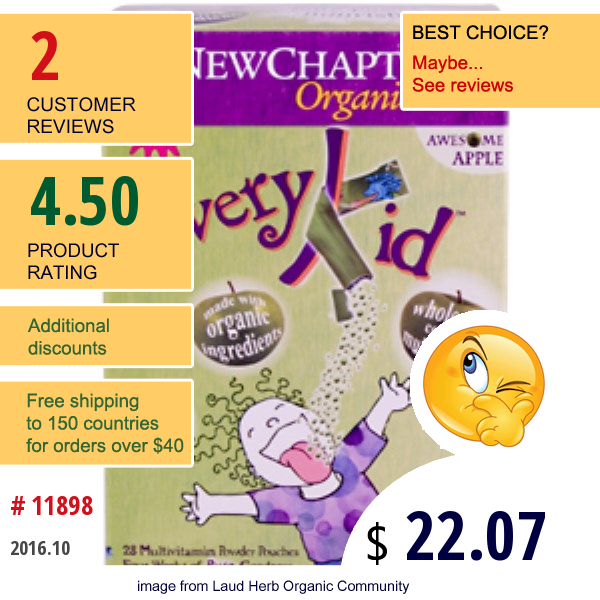 Description:
New.
Awesome Apple.
Made with organic ingredients.
Whole-food complex multivitamin.
No refined sugars.
Natural Apple Flavor with other natural flavors.
Four weeks of pure goodness.
Dietary Supplement.
No water, no mixing, no spills.
Perfect tongue-tingling pure powder nourishment.
Naturally gluten free.
Why Organic Ingredients?.
All kids need wholesome, safe foods that protect their growing bodies from pesticides, chemicals and unknown risks from genetically-modified crops. Nourishing young bodies with vitamins, minerals and antioxidants each day is equally important, because growing up is serious business.
Finally! A multivitamin that's ever pure for every kid!
EveryKid...
read more
.
Последнее редактирование модератором: