Laud Herb in English
English-speaking LH analyst
Команда форума
Сообщения

11.375
Реакции

5
...Add Hot H2O. Electrolyte. 97% Organic Ingredients. Dietary Supplement. Hot Drinks for Cold Athletes...
​
Full product title:
Clif Bar, Shot Electrolyte Replacement Drink, Hot Apple Cider Flavor, 12 Packets, 1.5 Oz (40 G) Per Packet
Brand:
Clif Bar
iHerb product id:
16973
Laud Herb Tag:
16973



Price:
$13.68
Extra Discount:
Yes
Free shipping:
Yes, to 150 countries
(for orders over $40)
iHerb customers rating:
0
Best choice?
May be...
(see
reviews
)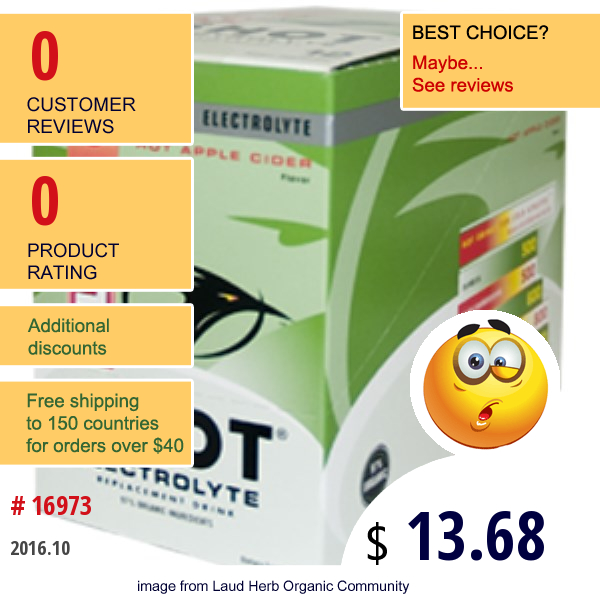 Description:
Add Hot H2O.
Electrolyte.
97% Organic Ingredients.
Dietary Supplement.
Hot Drinks for Cold Athletes.
Each year when the snow begins to fall I transition from cyclist and runner to skier and mountaineer. Despite being very different activities in very different climates, I've noticed the physical demands of summer and winter sports are remarkably similar. But no matter the season or activity, I'm always better when my hydration and nutrition needs have been met.
The challenge is that when I'm out carving or climbing - and chilled to the bone - the last thing I want is a cold drink. Hot tea and coffee are appealing, but neither offers the carbs, electrolytes, or protein to keep my going. Having a chilly drink in the snow is a bummer, but...
read more
.
Последнее редактирование модератором: