Laud Herb in English
English-speaking LH analyst
Команда форума
Сообщения

11.375
Реакции

5
...Digestive System Health. Dietary Supplement. Supports A Healthy Stomach and Esophagus....
​
Full product title:
Erba Vita, Gastro, 30 Chewable Tablets
Brand:
Erba Vita
iHerb product id:
51032
Laud Herb Tag:
51032



Price:
$12.12
Extra Discount:
Yes
Free shipping:
Yes, to 150 countries
(for orders over $40)
iHerb customers rating:
5.00
iHerb customer reviews:
2
Best choice?
May be...
(see
reviews
)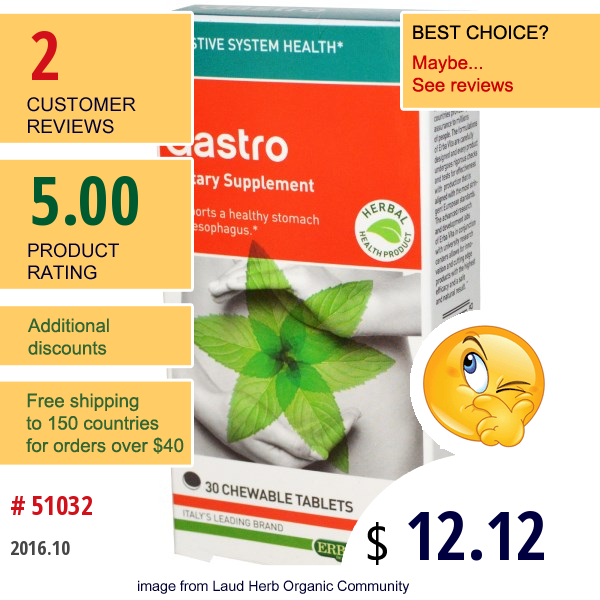 Description:
Digestive System Health.
Dietary Supplement.
Supports A Healthy Stomach and Esophagus.
Herbal Health Product.
Italy's Leading Brand.
Since 1982.
Vegetarian Product.
Quality System EU Certified Company ISO.
Gastro is a dietary supplement based on dry standardized, guaranteeing certified constant quality, indicated to support a healthy stomach and esophagus. Magnesium hydroxide is added to support an alkaline environment.
Erba Vita was founded by an old family tradition and the deep passion of Dr. Carlo Bollini. Positioned among the top companies in Europe and present in over 30 countries provides quality assurance to millions of people. The formulations of Erba Vita are carefully designed and every product...
read more
.
Последнее редактирование модератором: