Laud Herb in English
English-speaking LH analyst
Команда форума
Сообщения

11.375
Реакции

5
...Since 1972. Promotes Cellular Energy Dietary Supplement 1200 mg L-Carnite per Serving...
​
Full product title:
Natures Answer, Liquid L-Carnitine, Natural Raspberry Flavor, 16 Fl Oz (480 Ml)
Brand:
Natures Answer
iHerb product id:
8129
Laud Herb Tag:
8129



Price:
$16.24
Extra Discount:
Yes
Free shipping:
Yes, to 150 countries
(for orders over $40)
iHerb customers rating:
4.83
iHerb customer reviews:
18
Best choice?
May be...
(see
reviews
)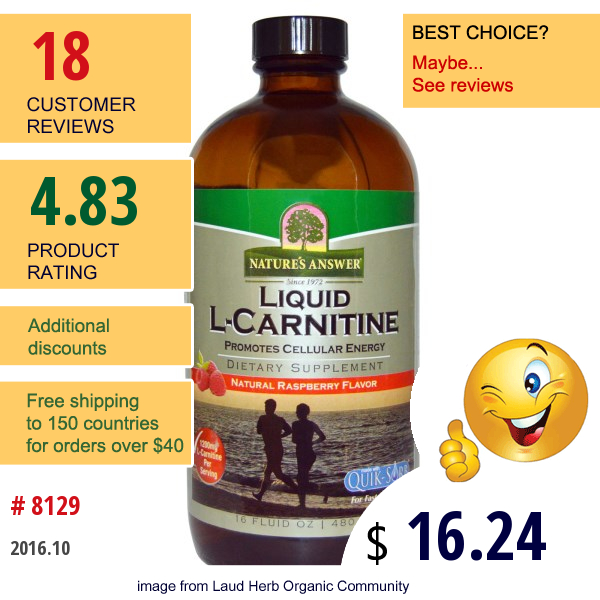 Description:
Since 1972.
Promotes Cellular Energy.
Dietary Supplement.
1200 mg L-Carnite per Serving.
Made with Quik-Sorb for Fast Absorption.
Carnipure.
L-Carnitine is an amino acid that supports healthy heart and fat metabolism. Quik-Sorb is an exclusive blend of herbs known to enhance delivery of nutrients to the body.
Nature's Answer. High-quality natural products for vital, healthy lifestyles since 1972. FDA...
read more
.
Categories:
Amino Acids
,
L Carnitine
,
L Carnitine Liquid
,
아미노산
Последнее редактирование модератором: