Laud Herb in English
English-speaking LH analyst
Команда форума
Сообщения

11.375
Реакции

5
...The Energy Supplements. Garcinia Cambogia. Dietary Supplement. Vegetarian. Hypo-Allergenic...
​
Full product title:
Natures Plus, Citrimax, 1000 Mg, 60 Tablets
Brand:
Natures Plus
iHerb product id:
51482
Laud Herb Tag:
51482



Price:
$26.48
Extra Discount:
Yes
Free shipping:
Yes, to 150 countries
(for orders over $40)
iHerb customers rating:
4.2
iHerb customer reviews:
5
Best choice?
May be...
(see
reviews
)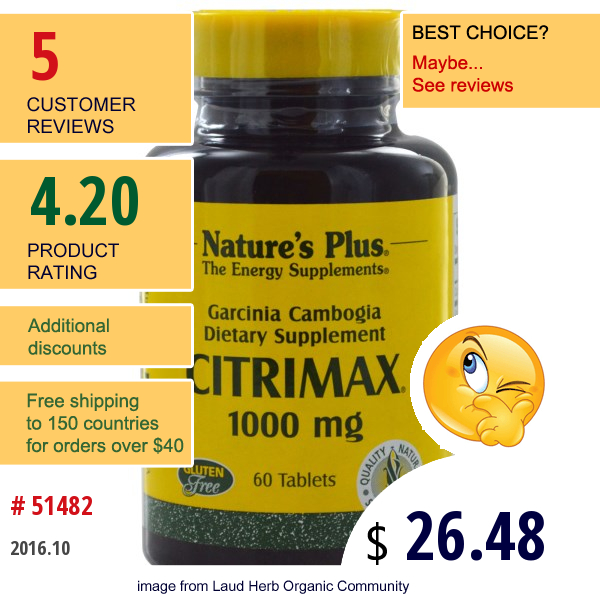 Description:
The Energy Supplements.
Garcinia Cambogia.
Dietary Supplement.
Vegetarian.
Hypo-Allergenic.
Gluten Free.
Quality Natural Supplements.
Nutritional Support for Overall Well-Being During Dieting.
Citrimax is a breakthrough in the field of natural weight loss and healthy living. Standardized to 50% [-] hydroxycitrate, Citrimax is a highly concentrated, full potency extract of Garcinia Cambogia, a healthful fruit indigenous to India and popularly used for hundreds of years. Independent laboratory...
read more
.
Categories:
Garcinia Cambogia
Последнее редактирование модератором: