Laud Herb in English
English-speaking LH analyst
Команда форума
Сообщения

11.375
Реакции

5
...Antioxidants. Natural Lift. Enhanced Metabolism. Curbs Hunger. Concentration + Memory...
​
Full product title:
Vibrant Health, Pro Matcha, Protein + Matcha Tea, Vanilla Creme, 18.5 Oz (525.42 G)
Brand:
Vibrant Health
iHerb product id:
67343
Laud Herb Tag:
67343



Price:
$39.96
Extra Discount:
Yes
Free shipping:
Yes, to 150 countries
(for orders over $40)
iHerb customers rating:
0
Best choice?
May be...
(see
reviews
)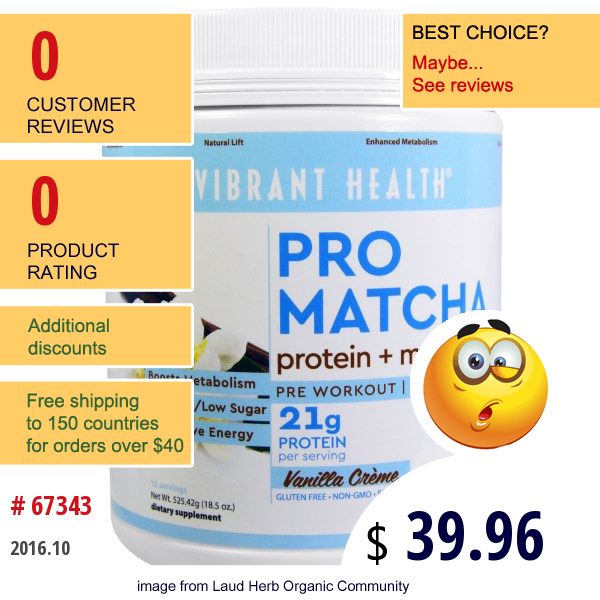 Description:
Antioxidants.
Natural Lift.
Enhanced Metabolism.
Curbs Hunger.
Concentration + Memory.
Weight Management.
Boosts Metabolism.
Low Carb/Low Sugar.
Productive Energy.
Pre Workout | Post Workout.
21 g Protein Per Serving.
15 Servings.
Dietary Supplement.
Gluten Free · Non-GMO · Soy Free.
Made in the USA Since 1992.
Formulated by Mark Timon, Founder, Vibrant Health, MS Clinical Nutrition.
Pro Matcha is a high antioxidant, whole-food protein powder featuring energizing Matcha, a shade-grown Japanese tea with 10x the antioxidants of regular green tea. Matcha provides L-Theanine, an amino acid that promotes relaxed alertness (no caffeine crash) and chlorophyll,...
read more
.
Categories:
Vibrant Health
,
Sports
,
Pre Workout Formulas
,
Recovery Formulas
,
スポーツ
,
プレワークアウトフォーミュラ
,
リカバリーフォーミュラ
,
Спорт
,
Перед Тренировочные Формулы
,
Восстановительные Формулы
,
스포츠
,
운동전 섭취 포뮬라
,
체력회복 포뮬라
Последнее редактирование модератором: