Laud Herb in English
English-speaking LH analyst
Команда форума
Сообщения

11.375
Реакции

5
...Natural Emanates. Vegan. Talc Free. Paraben Free. Cruelty Free. Vegan. Toxin Free...
​
Full product title:
Emani, Hydra Wear 12 Hr Foundation, Natural Beige, 1 Fl Oz (30 Ml)
Brand:
Emani
iHerb product id:
49802
Laud Herb Tag:
49802



Price:
$30.00
Extra Discount:
Yes
Free shipping:
Yes, to 150 countries
(for orders over $40)
iHerb customers rating:
4.3
iHerb customer reviews:
10
Best choice?
May be...
(see
reviews
)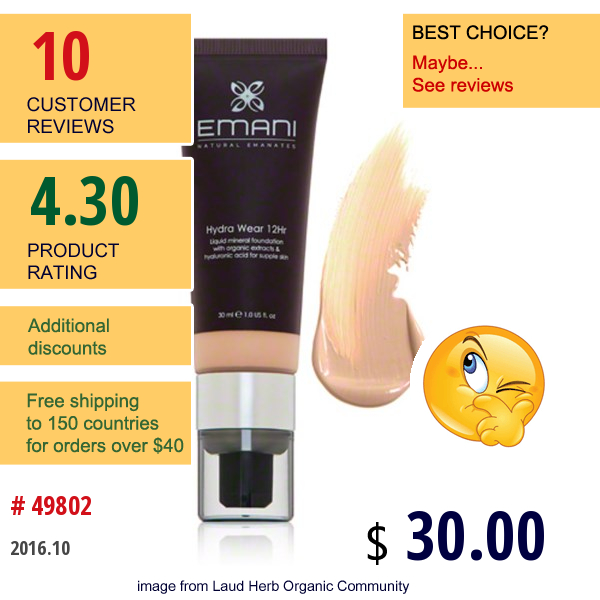 Description:
Natural Emanates.
Vegan.
Talc Free.
Paraben Free.
Cruelty Free.
Vegan.
Toxin Free.
Organic.
Infused with a luxurious blend of hyaluronic acid and organic jojoba oil to assist skin's vitality. Hydra Wear 12hr wears like a moisturizer with coverage that won't accentuate lines and wrinkles.
Suggested Use.
On clean...
read more
.
Categories:
Emani
,
Bath & Beauty
,
Makeup
,
Fluid Makeup
,
バス&ビューティー
,
コスメ、メイク
,
リキッドファンデーション
,
Для Душа И Красоты
,
Макияж
,
Жидкий Макияж
,
목욕 및 미용
,
액상 메이크업제품
Последнее редактирование модератором: