Laud Herb in English
English-speaking LH analyst
Команда форума
Сообщения

11.375
Реакции

5
...Worry-Free Luxury 'Tahitian Family Collection Keep your Color Fresh Instantly Smooth & Tangle Free...
​
Full product title:
Original Sprout Inc, Luscious Island Conditioner, 33 Fl Oz (975 Ml)
Brand:
Original Sprout Inc
iHerb product id:
62160
Laud Herb Tag:
62160



Price:
$53.99
Extra Discount:
Yes
Free shipping:
Yes, to 150 countries
(for orders over $40)
iHerb customers rating:
0
Best choice?
May be...
(see
reviews
)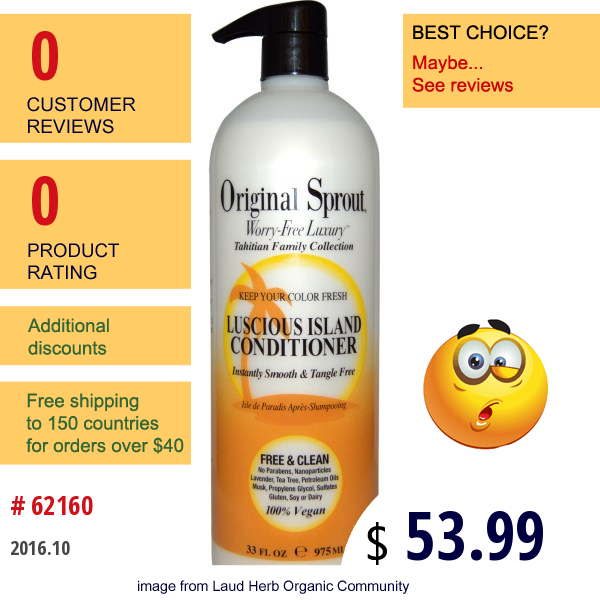 Description:
Worry-Free Luxury.
'Tahitian Family Collection.
Keep your Color Fresh.
Instantly Smooth & Tangle Free.
Original Sprout.
was created by Inga Tritt, Mother & Master Stylist. Families & Stylists trust the formulation because they work with safe and soothing ingredients.
 .
 Enjoy ultra rich conditioning instantly transforming dry, damaged hair into silky, soft healthy locks. With Mongongo oil known for its healing, regenerative powers feeding the scalp & vegan protein helping strengthen & repair. Keep color fresh with our pH of 4.5-5.5. Naturally smells delicious for your daily island escape.
Professional Performance.
Repair...
read more
.
Categories:
Original Sprout Inc
,
Bath & Beauty
,
Hair & Scalp
,
Shampoo & Conditioner
,
Conditioners
,
バス&ビューティー
,
髪&頭皮
,
Для Душа И Красоты
,
Волосы И Кожа Головы
,
Кондиционеры
,
목욕 및 미용
,
헤어 & 두피
,
컨디셔너
Последнее редактирование модератором: