Laud Herb in English
English-speaking LH analyst
Команда форума
Сообщения

11.375
Реакции

5
...All Skin Types. Natural Solution: Blemish-Prone Skin. Skincare Solutions. Natural Ingredients...
​
Full product title:
Derma E, Very Clear Moisturizer, Anti-Blemish Complex, 2 Oz (56 G)
Brand:
Derma E
iHerb product id:
10749
Laud Herb Tag:
10749



Price:
$15.60
Extra Discount:
Yes
Free shipping:
Yes, to 150 countries
(for orders over $40)
iHerb customers rating:
4.00
iHerb customer reviews:
90
Best choice?
May be...
(see
reviews
)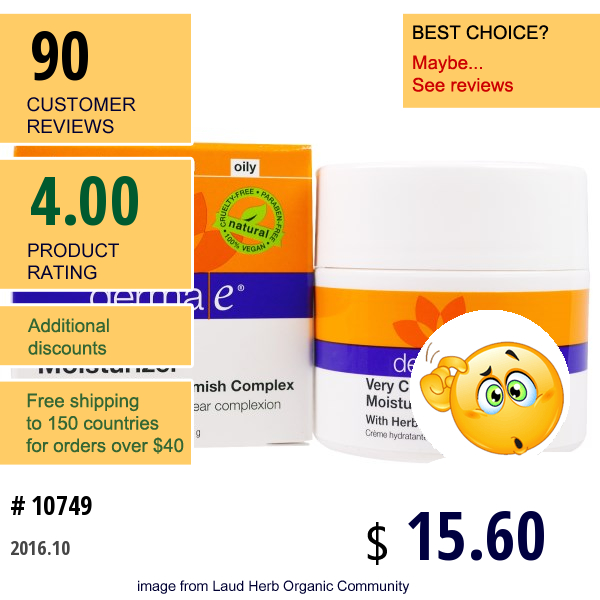 Description:
All Skin Types.
Natural Solution: Blemish-Prone Skin.
Skincare Solutions.
Natural Ingredients.
Cruelty-Free.
Paraben-Free.
Eco-Friendly.
Salicylic Acid • Tea Tree.
Restores Balance to Prevent Breakouts.
derma e is Family Owned and Operated.
Proven Natural Formulations Since 1984.
Cruelty-Free/Gluten-Free/Vegan/pH Balance.
We're serious about skincare and provide only the finest natural product available. Every product we make is crafted with powerful, active ingredients scientifically-proven to deliver noticeable results and visible improvement. That's why health-concious people trust derma e for natural, highly-concentrated skincare products that work.
— Dr. Linda...
read more
.
Categories:
Derma E
,
Bath & Beauty
,
Facial Care
,
Acne
,
バス&ビューティー
,
フェイシャルケア
,
クリーム、ローション&美容液
,
にきび
Последнее редактирование модератором: