Laud Herb in English
English-speaking LH analyst
Команда форума
Сообщения

11.375
Реакции

5
...Certified Organic. Naturally Nutritious. Kosher Pareve. 29 g Whole Grain Per Serving...
​
Full product title:
Arrowhead Mills, Organic Amaranth Flakes, 12 Oz (340 G)
Brand:
Arrowhead Mills
iHerb product id:
26883
Laud Herb Tag:
26883



Price:
$5.79
Extra Discount:
Yes
Free shipping:
Yes, to 150 countries
(for orders over $40)
iHerb customers rating:
4.26
iHerb customer reviews:
23
Best choice?
May be...
(see
reviews
)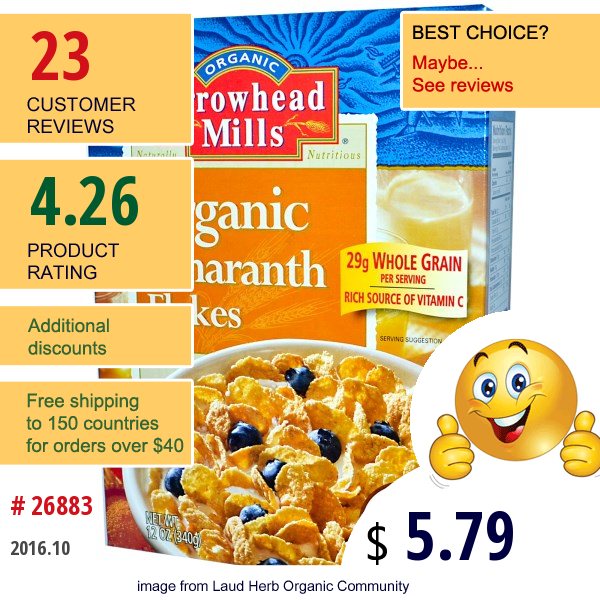 Description:
Certified Organic.
Naturally Nutritious.
Kosher Pareve.
29 g Whole Grain Per Serving.
Rich Source of Vitamin C.
USDA Organic.
Certified Organic by the Texas Department of Agriculture (TDA).
Whole Grain Cereal*.
Low Fat.
A Cholesterol Free Food.
Sweetened with Fruit Juice.
Vegan.
All Natural - No Artificial Anything!
Grown without Synthetic Pesticides.
Made with No Genetically Engineered Ingredients.
Eat 48 g or More of Whole Grains Daily.
*Low fat diets rich in whole grain foods and other plant foods may reduce the risk of heart disease and certain cancers.
From America's Heartland to Your Heart.
Arrowhead Mills has been the pioneer and...
read more
.
Categories:
Arrowhead Mills
,
Cereals & Breakfast Foods
,
Cereal
,
Whole Grain Cereal
,
아침식사
,
시리얼
,
통 곡물 시리얼
Последнее редактирование модератором: