Laud Herb in English
English-speaking LH analyst
Команда форума
Сообщения

11.375
Реакции

5
...No Preservatives. Non-GMO. Gluten Free. Fresh-Sealed. Premium Soy Protein....
​
Full product title:
Mori-Nu, Silken Tofu, Extra Firm, 12.3 Oz (349 G)
Brand:
Mori-Nu
iHerb product id:
34257
Laud Herb Tag:
34257



Price:
$3.25
Extra Discount:
Yes
Free shipping:
Yes, to 150 countries
(for orders over $40)
iHerb customers rating:
4.45
iHerb customer reviews:
29
Best choice?
May be...
(see
reviews
)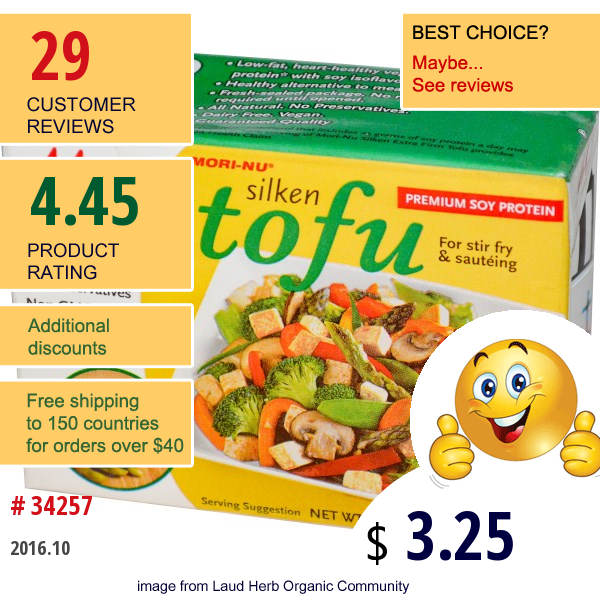 Description:
No Preservatives.
Non-GMO.
Gluten Free.
Fresh-Sealed.
Premium Soy Protein.
For Stir Fry & Sautéing.
Low-Fat, Heart-Healthy Vegetable Protein* With Soy Isoflavones.
Healthy Alternative to Meat and Eggs.
Freshed-Sealed Package.
No Refrigeration Required Until Opened.
All Natural.
No Preservatives.
Dairy-Free.
Vegan.
Guaranteed Quality.
Kosher Parve.
*Diets low in saturated fat and cholesterol that includes 25 grams of soy protein a day may reduce the risk of heart disease. One serving of Mori-Nu Silken Extra Firm Tofu provides 6.3 g of soy protein. - FDA Health Claim.
Each Mori-Nu box is a little tofu factory.
A blend...
read more
.
Последнее редактирование модератором: