Laud Herb in English
English-speaking LH analyst
Команда форума
Сообщения

11.375
Реакции

5
...Free Sinus Health Guide Inside. For Adults & Children. Non-Addictive. Homeopathic...
​
Full product title:
Natural Care, Airdefense, Nasal Decongestant Mist, 0.5 Fl Oz (15 Ml)
Brand:
Natural Care
iHerb product id:
15508
Laud Herb Tag:
15508



Price:
$13.21
Extra Discount:
Yes
Free shipping:
Yes, to 150 countries
(for orders over $40)
iHerb customers rating:
5.00
iHerb customer reviews:
1
Best choice?
May be...
(see
reviews
)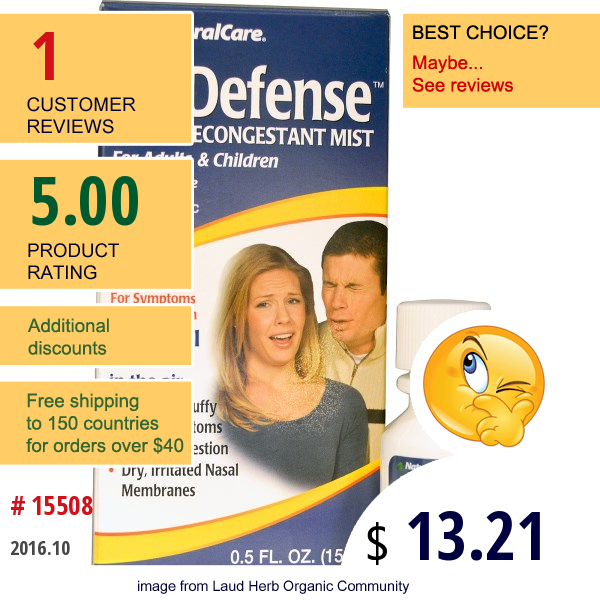 Description:
Free Sinus Health Guide Inside.
For Adults & Children.
Non-Addictive.
Homeopathic.
For Symptoms Resulting from Harmful Germs in the Air.
Cold and Stuffy Nose Symptoms.
Nasal Congestion.
Dry, Irritated Nasal Membranes.
Germs in the air are everywhere! Did you know that.
Sneezing is a sudden, forceful (average speed is 90 MPH), involuntary burst of air through the nose and mouth, and that tiny sneeze droplets may contain many viral and infectious bodies that drift in the air?.
A study from the Am. Center for Disease Control and Prevention revealed that 72% of people on an airline flight caught a cold from one infected passenger?.
Essentially all...
read more
.
Последнее редактирование модератором: