Laud Herb in English
English-speaking LH analyst
Команда форума
Сообщения

11.375
Реакции

5
...COR-Performance Series. Fast Digesting 100% Whey Protein. Delicious Flavor. Mixes Instantly...
​
Full product title:
Cellucor, Cor-Performance, Whey Whipped Vanilla, 2 Lb (924 G)
Brand:
Cellucor
iHerb product id:
59418
Laud Herb Tag:
59418



Price:
$38.75
Extra Discount:
Yes
Free shipping:
Yes, to 150 countries
(for orders over $40)
iHerb customers rating:
5.00
iHerb customer reviews:
1
Best choice?
May be...
(see
reviews
)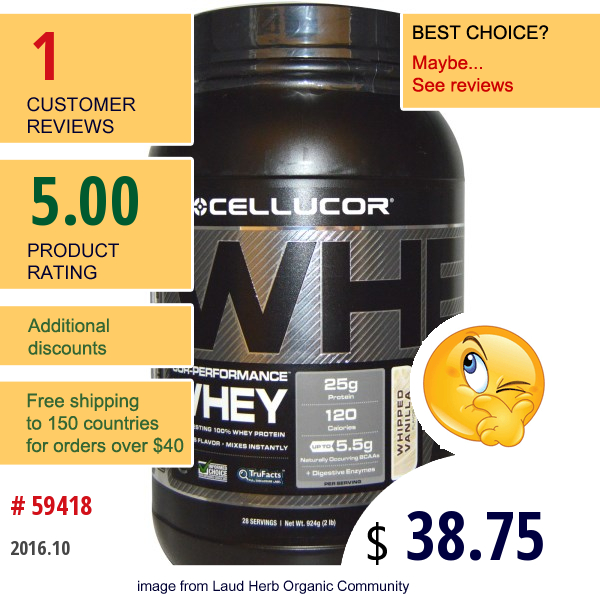 Description:
COR-Performance Series.
Fast Digesting.
100% Whey Protein.
Delicious Flavor.
Mixes Instantly.
Manufactured in a GMP Compliant Facility.
Informed Choice.
TruFacts Full Disclosure Label.
25 g Protein.
120 Calories.
Up to 5.5 g Naturally Occurring BCAAs + Digestive Enzymes Per Serving.
28 Servings.
Gluten Free.
Whey.
More Protein, Better Flavor.
Cellucor COR-Performance  Whey was created with one goal in mind—to deliver a pure protein that packs more protein, and better flavors, into each and every scoop.
COR-Performance Whey features a fast digesting Whey Protein Isolate based formula that packs 25G of protein per serving...
read more
.
Categories:
Cellucor
,
Whey Protein
,
Sports
,
Pre Workout Formulas
Последнее редактирование модератором: